Why Bravo Renewed 'Girlfriends' Guide to Divorce' For Three Years
Bravo is making a long-term commitment to Divorce.
Today, the network announced a rare, three-season pick-up for Marti Noxon's edgy, heartfelt dramedy Girlfriends' Guide to Divorce, which wrapped Season 2 in February. In the announcement, Jeff Wachtel, CCO of NBCUniversal Cable Entertainment and President of Universal Cable Productions, cited Noxon and her all-grown-up cast of diverse, funny, fallible ladies as key voices at the network, which targets a wide swath of savvy female viewers with its fearless programming.
"GG2D is a show that captures an important slice of the zeitgeist," Wachtel said in the statement. "And with this remarkable three-season pickup, it will be a show that audiences can discover and enjoy forever."
RELATED: Bravo Is Heading to Texas for New Series The Real Housewives of Dallas
Girlfriends' Guide stars a luminous Lisa Edelstein as 40-something self-help writer Abby McCarthy, who navigates the rollercoaster ride that is love, loss, family, career and friendships with her best buds, no-nonsense Jo (Alanna Ubach), newlywed Phoebe (Beau Garett) and duplicitous new bride Delia (Necar Zadegan).
"For me, this show is much more about what it's like to be men and women right now—and right now it's really complicated," Noxon told Channel Guide Magazine before the show's premiere in December 2014. "In Episode 2, I basically wrote the thesis statement—the Delia character just lays it out there. She's like, 'Look. How long, in the span of history, have women had the capacity to have more power in their relationship than men?' It's a sliver, a moment, right? And we have no handbook. Men don't know how to deal with it."
RELATED: The Girlfriend Experience Star Riley Keough on How Her New Role Scared Her
Drawn from the Girlfriends' Guide book series by Noxon's co-executive producer Vicki Iovine and colored in by Noxon's own experiences, the series quickly found a devoted audience with its frank, funny and (this part is key) honest examination of the many ways modern men and women relate to one other within—and without—the bonds of marriage. Stuff like the notion that divorce is rarely a clean break. That the heart wants what it wants—and is sometimes desperately stupid about that. The hormones? Even worse. Also, you're never going to feel completely great at your job—or at being a mom. Or, some days, a human. Situations that frequently feel more real than the network's bread-and-butter Real Housewives franchise.
"I found that Vicki's voice was a great entry point," Noxon explains. "And if we could have that franchise behind us, it meant that the people who were familiar with her work would understand that this is going to be funny, this is going to frank and this going to be brutally honest. But it's also not going to be a drag. We're not going to tell you that you're the worst because this happened. We're going to be like, yeah, this happened … So what next?"
We have at least three more seasons to find out.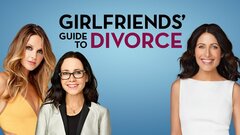 Powered by