'The Girlfriend Experience' Star Riley Keough on How Her New Role Scared Her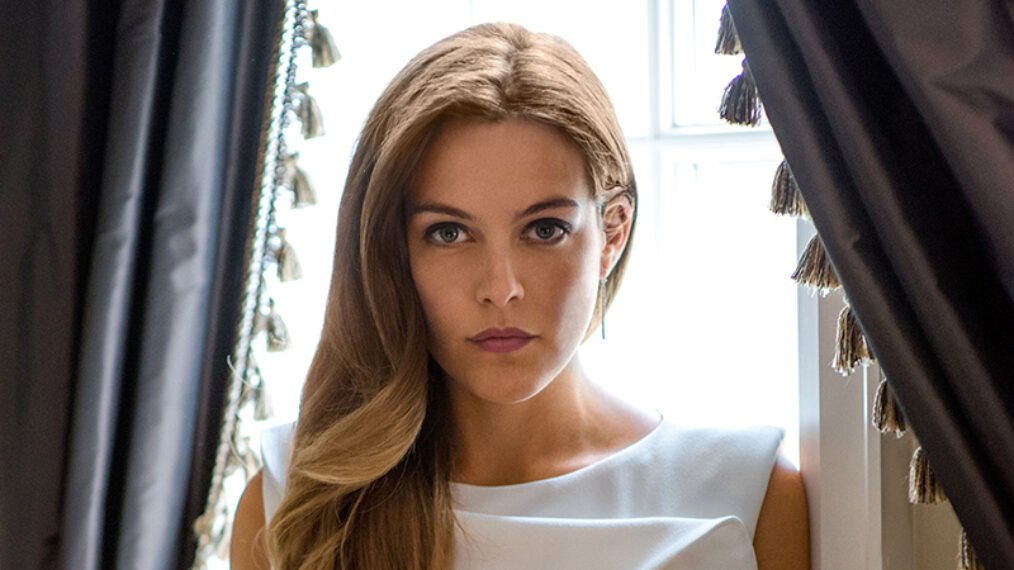 First, I love the binge option Starz is giving subscribers for its 13-episode (and these are blink-and-its-over 30-minute episodes) steamy new thinker The Girlfriend Experience. Starz is making the entire series available on On Demand to coincide with the series' TV premiere on Sunday, April 10.
The Girlfriend Experience is a reimagining of executive producer Steven Soderbergh's 2009 film of the same name and stars the daring and brilliant Riley Keough (a.k.a. Elvis' 26-year-old granddaughter) as Christine Reade, a second-year law student who is drawn into the world of transactional relationships known as GFEs (girlfriend experiences). Basically, a GFE is a high-end escort who serves the needs of whatever her high-paying clients desire (sex or no sex—although I'm six episodes in and have yet to see a client not interested).
I recently sat down with the beautiful Keough where she talked about her character, the sex scenes and meeting former GFEs.
RELATED: The Girlfriend Experience Finds Female Empowerment Through Shameless Sex
Could you have picked a more daring role to jump into a series?
I'm not sure. I don't think so.
Actually, when you saw the script on paper, what rattled through your head as far as, wanting to do this role—"Absolutely have to do this? This scares me? This challenges me?"
I had all of these thoughts. There were things that I read that I found scary. I had a lot of questions. I read it and I liked it. Once I spoke with [writers/directors] Amy Seimetz and Lodge Kerrigan and [executive producer] Steven, I got a more clear idea on the vision of the thing as a whole. That was very appealing to me because I liked the idea.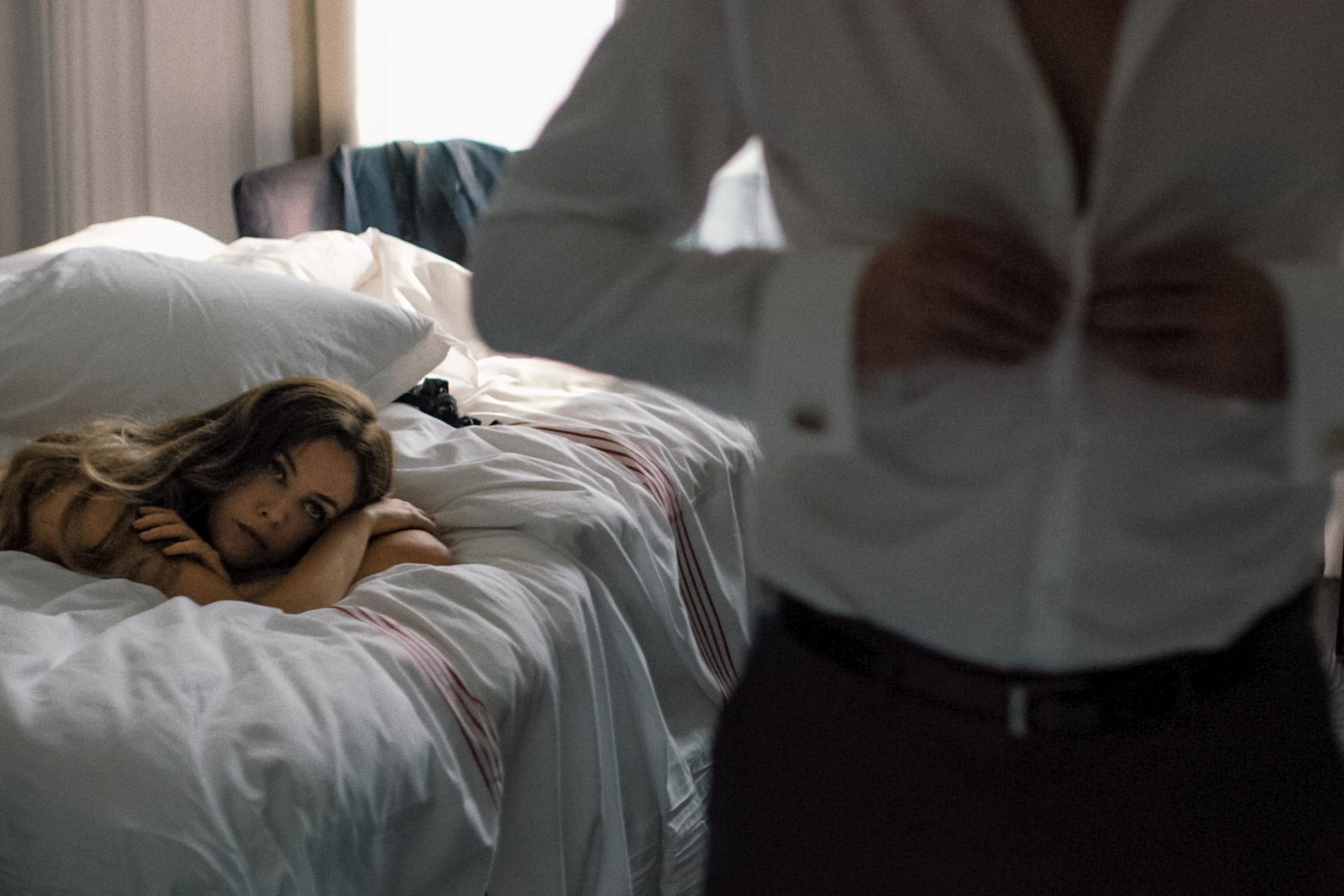 You said earlier [during the Television Critics Association Press panel] that there were certain things that scared you doing this role. What were some of those things?
When you read the words on a page, sometimes you don't get the full idea of the character and the story and the tone and the point and the message and everything. When I read something, I'm very critical because things can go terribly wrong a lot of the time. The thing I was looking at was, OK, it's a lawyer, a girl in law school who's a sex worker. Is this going to be like, "Oh, sexy secretary law student with no substance kind of show?" That was something I don't want. Obviously, Steven would never make something like that and Amy or Lodge would never make something like that, but I had to make sure. I didn't know them at the time. I mean, I knew Steven [from her Magic Mike role]. I didn't know Lodge and Amy. I'm not going to play some two-dimensional sexy secretary who has a night job. She's got to be more complex than that. I had concerns about the character, but everybody agreed on that. That was good.
RELATED: Steven Soderbergh's HBO Movie Starring Sharon Stone May Let Viewers Decide the Ending Via App
I understand that you actually contacted some former GFEs. What was that conversation like and what intrigued you or shocked you about their lives? Where did you start?
Oh god, I mean, I asked her everything. I really didn't hold back, but what I found to be the most interesting was she was telling me instances that she'd fallen in love or had feelings for her clients. How some of them were in high positions at their job or in relatively public positions. It was never going to work, so it was kind of heartbreaking.
Something I found interesting was that she said she never felt threatened or uncomfortable. It was like that for a lot of them. If you feel uncomfortable or nervous ever, you leave. You're running your own business, essentially — some of them have madams and what not, [it's not like having] a pimp who's forcing you to do this thing. She really enjoyed herself. A lot of the girls that I've talked to have said that. It was a pretty good gig for them. That was interesting to me as well, because I wasn't sure how they felt about it.
In the series, how does your character's role as an escort fit in with her real job as a student and intern at a prestigious law firm? Can she keep this secondary life hidden?
It doesn't really fit in to her real life, I don't think. There comes a point when things start crossing over and it gets very dramatic. Things start falling apart. All of her different worlds she's got.
Is Christine happy as a GFE (her escort name is Chelsea)?
I think so, yeah. I think she's happy. She's not very emotional. She's not into intellectualizing her emotions on things like women are. She doesn't really care about a lot of things women care about, which is fun to play, because as a woman you're just constantly falling apart and crying about everything. She doesn't. She's very self righteous and unapologetic about her behavior and her opinions on things and her morals and whatever. She doesn't even really care to defend herself because I think she's very comfortable with who she is.
Does she care?
That's a question I don't really want to answer because I like the idea of everybody figuring that out for themselves at the end of the whole thing. You do have to watch the entire season to get to the point where you figure out who she is as a person. Is she a sociopath or is she just emotionless or whatever?
Any concerns on the sex scenes in general? The nudity?
When you have a show like this, one of the first things that anybody will say to you is there's nothing gratuitous. The thing is, obviously, if you're doing a TV show or telling a story about a girl whose job it is to have sex, there's going to be sex in the show. I was interested in the topic itself. Yeah, I was worried. I didn't want it to be too much sex, but there's not too much sex. There's sex where there's sex. It's one of those things where it's meant to be scary and worrying, but I don't really find it that worrying and scary. To be honest, I felt worried because you're supposed to, but I didn't actually feel worried about it.
What did Ben say? Did you talk about it with him? [Her husband is Australian stuntman Ben Smith-Petersen.]
Yeah, he's so chill. He's in the film industry, he knows how it works. For the most part, he doesn't care. My art or my job is my thing. He doesn't really fuck with that, really.
The Girlfriend Experience, Series Premiere, Sunday, April 10, 8/7c, Starz. The entire 13-episode season will be available on Starz On Demand to binge-watch.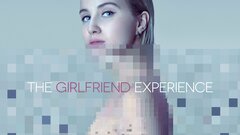 Powered by