Amy Schumer Talks to Jimmy Fallon About 'Plus-Sized' Controversy (VIDEO)
"For those of you who don't know me, I'm a famous plus-sized model," quipped comedian Amy Schumer on last night's The Tonight Show Starring Jimmy Fallon. The actress was on the late-night talker to promote the upcoming season of her hilarious Comedy Central series, Inside Amy Schumer, but took the opportunity to address controversy regarding a recent issue of Glamour magazine.
RELATED: NBC Addresses Jimmy Fallon's Accidents; Signs New Deal with Seth Meyers
On the cover of a special issue that that was meant to celebrate "chic at any size," Schumer was mentioned as one of several women "who inspire us" along with plus-size model Ashley Graham, actress Melissa McCarthy and singer Adele.
"I love Glamour Magazine, honestly," she told Fallon, while striking a provocative pose in an orange mini-skirt and sky-high heels. "They've been so great to me. They've been so nice to me, they've done so many great things for women, but what I learned, is that people don't like being classified as plus size. We don't need these labels!"
Schumer had taken issue with the fact that the issue singled her out without her consent. She posted to her Instagram account: "I think there's nothing wrong with being plus size. Beautiful healthy women. Plus size is considered size 16 in America. I go between a size 6 and an 8. @glamourmag put me in their plus size only issue without asking or letting me know and it doesn't feel right to me."
RELATED: Amy Schumer Says She'll Take a Lie-Detector Test to Prove She's Not a Joke Thief
Schumer opposed to the media's projection of body issues on Schumer's young fans. "Young girls seeing my body type thinking that is plus size? What are your thoughts? Mine are not cool glamour not glamourous."
The magazine was quick to apologize to the mega star, saying in a statement, "we believe her passionate and vocal message of body positivity IS inspiring, as is the message of the many other women, of all sizes, featured. The edition did not describe her as plus-size. We are sorry if we offended her in any way." Schumer has a good relationship with the mag in the past and was named one of 2015 Glamour's Women of the Year.
What do you think is the bigger issue? Glamour labeling Schumer as "plus-size" or the fact that the term needs to exist at all? Would a magazine catering to men have lumped together Kevin James, Marcus Mumford and James Corden solely because of their size?
The Tonight Show Starring Jimmy Fallon, Weeknights, 11:35/10:35c, NBC.
Inside Amy Schumer, Season Premiere, Thursday, April 21, Comedy Central.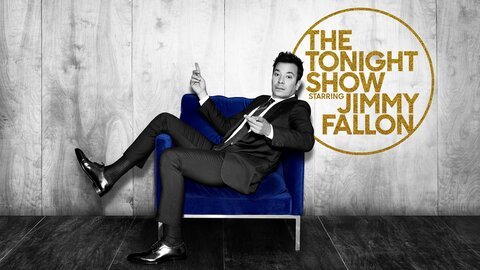 Powered by