'Shameless': Lip's Big Decision, Ian's Relationship Status & More From 'Now Leaving Illinois' (RECAP)
Now Leaving Illinois
Season 10 • Episode 10
[Warning: The below contains MAJOR spoilers for Season 10, Episode 10 of Shameless, "Now Leaving Illinois"]
Season 10 of Shameless is nearing its end with just two more episodes set to air following this Sunday's installment, and many of the Gallaghers made big decisions or were faced with big problems in the episode titled "Now Leaving Illinois."
Below, we're breaking down all of the biggest moments, including Lip's (Jeremy Allen White) major decision, an update on Ian (Cameron Monaghan) and Mickey's (Noel Fisher) relationship status, and more. Beware of major spoilers ahead.
Lip's Major Decision
When the episode picks up, Lip and Tami (Kate Miner) are woken by a cell phone ringing, and after she answers the call, Tami informs Lip he's been invited to a Tamietti family meeting. Later that day, when Lip's at the garage with Brad (Scott Michael Campbell), he consults the fellow honorary Tamietti family member.
Essentially, Brad advises that Lip be a yes man and back up anything Tami says during the family meeting and that he cannot be a no show under any circumstances, because Brad knows from experience that it doesn't go well if you're absent.
Once at the Tamietti home, it's clear that big news is coming — returned from their trip, Tami's father and aunt reveal that Tami's grandmother's house is open now that the woman's been moved to elderly care. The reveal leads Aunt Oopie (Mary Kay Place) to mention it was the family's hope that Lip and Tami would take it, in order to get out of their trailer. The catch? It's up in Wisconsin, two hours away from the South Side.
When Tami expresses interest, she asks Lip if they can at least go and check out the home. It's clear once they arrive that it seems like the perfect setup for them both and their new family. By the episode's end, Lip's calling a meeting of his own, informing his family that he'll be moving away with Tami. Will he go through with it or does Lip's South Side nature run too deep? We'll believe the move when we see it.
Ian & Mickey's Leap
After last week's heartbreaking impasse between Ian and Mickey, hope arrived in the form of a metaphorical pissing contest. Things kick off for the pair when Ian approaches Mickey and his new boy toy Byron (Adam Farabee) and learns that his Vespa won't start. Of course, viewers will remember, Ian peed in the guy's gas tank last week, effectively damaging its chances of ever running.
While they all chat, Byron mentions he and Mickey are seeing Imperial Mammoth at a club, and Ian's invited to the show. Ian mentions how he's dating someone new and brushes off the invite, but it's clear he'll end up checking out the event. This prompts Ian to go on a mad dash to find someone on Grindr to go on a date with to the event.
After taking various selfies, Ian gets a hit and invites a very superficial and refined date named Cole (Chester Lockhart) to attend the show with him. Things come to a head at the event, but when Ian overhears Byron verbally bashing Mickey to his friends, Ian throws hands, and Mickey decides to do the same with Cole. In the midst of the chaos, Mickey and Ian get back together and agree to marry.
Frank's Next Move
After last week's hostage situation, Frank (William H. Macy) is found in the car with Faye's (Elizabeth Rodriguez) planted pills and understandably arrested. While being strip-searched at the jail, Frank blabs about his situation to the officer patting him down. But when two pills fall out of unseen areas of his body, Frank's booked and scheduled to see a judge.
When he's called into an interrogation room, Faye is sitting there waiting for him, claiming she's his wife. After they're left alone, they speak briefly and she reveals she did what she did to get payback for her love, framing Frank for a crime that could get him 30 years time, but she leaves him with one parting gift — a pill for a moment of weakness.
Once in front of the judge, Frank works his magic and talks himself out of a long-time sentence, garnering 100 hours of community service and time in a court program.  Needless to say, Faye is ticked off. Instead of staying in jail, Frank is brought to a spa-like rehab program where he wows the other guests with his wild stories. He ends up making friends with some rich kid by giving him the pill Faye brought to him in jail. He asks the kid to make sure his lunch account is full, and he'll take care of him.
Debbie Stuck in the Middle
After hinting at a possible love-triangle between Debbie (Emma Kenney) and mother-daughter duo Claudia (Constance Zimmer) and Julia (Alison Jaye), the theory became reality as the Gallagher bounced from one woman to the other. After Claudia asks Debbie to work for her as a house assistant, she has to rethink the situation — by being with Claudia's daughter, that's also biting the hand that feeds her.
When she consults Megan (Dylan Gelula) about the situation, the gold digger tells her to stick with money. On her way to let down Julia easy, Debbie realizes she's walking into a "promposal," making the impending shut down all the more devastating for the high schooler.
Later, Claudia tells Debbie that Julia is upset because a guy turned her down, but Debbie knows the truth. Later, Julia finds Debbie at the Gallagher house and tells her she'll go to the dance or tell her mother the truth about them. Needing the money from Claudia, Debbie can do nothing but say yes.
Kev & V's Strange Auction
When Kev (Steve Howey) and V (Shanola Hampton) get a call that their daughters on the short list for a highly competitive school, they do what they can to get involved so that the girls are accepted. One activity involves an auction in which parents of perspective students offer themselves and fun perks for parents of current students to bid on. Kev and V pull in quite the amount when a wealthy looking couple bids $5000 on them.
Throughout the episode, Kev and V question why the people bid so high on them during the auction. Convinced the couple are into swinging, they prepare for the possibility of things getting intimate, but of course they're totally off base when the pair show up with their son at the door. The couple explains that they wanted their son to see a poor family's house to motivate him in school to do better. Can you say awkward?
Carl's Trash Duty & Liam's Dilemma
Now in sanitation, Carl (Ethan Cutkosky) joins the ranks and quickly learns the cleaning crew are a tight-knit team. Throughout the day he observes their behavior, learning lessons like, when someone throws away something expensive, lie about not being able to get it and then take it for yourself. When someone crosses the men, they dump their trash load in his yard, but when it comes time to stop outside of an open house, the guys tell Carl to wait outside.
Curious, Carl peeks into the window of the house they entered and sees the workers beating the real estate agent to a pulp. Later on, we see Carl meet up with the police officer that assigned him the job to which Carl says, "Garbage is dirty." Could this mean he's snitching on the crew, or is he on an unofficial undercover assignment? Hopefully all will be revealed.
As for Liam (Christian Isaiah), he's in limbo with school, because without Frank's signature to prove he lives in the appropriate region, he could be kicked out. Will he get access to the education system or will savvy Liam find another way?
Shameless, Sundays, 10/9c, Showtime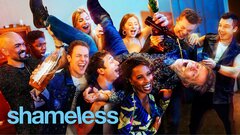 Powered by