'The Catch's Mireille Enos and Peter Krause on the Show's 'Charged Romance'
Nestled together on a sleek-chic sofa on the set of The Catch, Mireille Enos and Peter Krause recall their first meeting. "You were getting a haircut," Enos begins. Krause adds with a laugh, "in, like, a storage room with bad lighting that was next to the workshop where they construct our sets. There was the smell of sawdust in the air."
On this early spring evening, it's clear the actors have since built up such an easy rapport that they even finish each other's sentences. The relationship between their characters—Los Angeles PI Alice Vaughan and her former con-man fiancé, Ben Jones—is considerably more complicated. Sure, Ben disappeared after making off with Alice's millions, but he also legitimately fell for his mark, who's now torn between lingering feelings for her ex and trying to help the FBI apprehend him. In the end, the sudsy new caper–the latest addition to ABC's "Thank God It's Thursday" lineup—works, according to executive producer Shonda Rhimes, because of the on-screen spark between its leads. "The key to great chemistry is having great actors who really know what they're doing," Rhimes says, "and thankfully, we have that in Mireille and Peter."
RELATED: The Catch: Benjamin Plays 'I Spy' Before He Meets Alice (VIDEO)
The TV vets open up about what's next for their characters, the series' bumpy beginnings and which Scandal star they'd love to snag for The Catch.
Ben and Alice face off in the April 21 episode. What can you tell us about their reunion?
Mireille Enos: Alice is pursuing Ben in the context of capturing him, but whether she's honest with herself or not, there's also a personal agenda. There's still a hunch that [their love] was real, but there was also the betrayal. So I don't think either of them can be satisfied until they have a private moment to answer some questions.
Peter Krause: Even though they both know they shouldn't see each other, they feel they must. They're two people for whom when they get in the same space together…
Enos: …the world disappears.
Is it true there might be some hot hookup action going on?
Krause: [Smiling] I don't know anything about that. Shondaland is famous for roller-coaster romances, from Grey's Anatomy's Meredith and Derek to Scandal's Olivia and Fitz.
RELATED: The Catch: Alice and Christopher Set Up a Meeting (VIDEO)
Why are Alice and Ben so drawn to each other?
Enos: At the heart of both of these people is the thrill of the hunt. And ultimately, they see into each other in a way no one else has.
Krause: Ben spends most of his time pretending to be other people, so his sense of self is very fluid, but when he's with Alice, I think it's very crystallized and real. Ben feels more authentically himself with her.
After years spent on Parenthood and The Killing, respectively, how did it feel to be offered roles on The Catch?
Krause: Interesting. On Parenthood, I was playing a very good dad/husband/son—very different from this!
Enos: I was baffled, actually. Like, "Really?" [Laughs] Not that I didn't think I could do it, but it was like, Why do you think I can? I'd been playing Grungy Dour Girl on The Killing, so the expectation that I could fit into this kind of glossy glamour world was surprising.
Peter, you replaced another actor who'd been cast in the pilot. Did you reach out to any other Shondaland actors for advice?
Krause: I didn't. But I did run into Tony Goldwyn [who plays Scandal's Fitz]. He directed an episode of [Krause's 2007 ABC drama] Dirty Sexy Money, and he said I was going to have a blast.
Enos: Tony told me the same! He's the nicest person ever. We should have him come direct an episode of The Catch! Wouldn't that be great?
Before the series premiered, the original showrunners were replaced with Shondaland vet Allan Heinberg and production was halted while the show was reconceived. What was that like for you?
Enos: I was really nervous. I remember getting a call from Shonda's assistant saying, "Shonda's going to call you." I got off the phone and started talking to myself in the car: "You're about to be told the show is canceled, and you're going to receive that [news] really gracefully."
Krause: I love that you were saying that to yourself out loud!
Enos: And not whispering. At full volume. [Laughs] When Shonda called, she said, "There's been a change of the guard, but don't be alarmed."
Krause: It was the strangest beginning of any television series I've ever been a part of.
Enos: Right. But I think partially what you sign up for with Shonda is that she's not going to put it on the air until it's something she 100 percent endorses. So on some level, you can just relax, because she's in charge.
RELATED: The Catch Adds More Twists and Turns to the Shondaland Lineup
As part of the revamp, Allan tailored your characters to your strengths. How did that shape Alice and Ben?
Enos: Allan made Alice more of a toughie. Which is fun because I have a black belt [in tae kwon do].
Krause: She's slugged me on the show a couple of times. She's got a good punch! [Laughs] For Ben, Allan's writing to something I did on Six Feet Under, which is inner emotional conflict. And part of what's exciting is the depth of the romance between these two characters. This is not the comfortable "I love you, honey" from Parenthood. It's a passionate…
Enos: …charged romance.
Krause: We're tracking a relationship that's like Romeo and Juliet, except Romeo is f—ing over Juliet. For a while, Romeo told Juliet his name was Jim. (Laughs)
Let's hope things turn out better for Alice and Ben!
Krause: It will. This isn't a tragedy.
Enos: Romeo and Juliet were babies. Alice and Ben are adults, albeit very complicated ones.
The Catch, Thursdays, 10/9c, ABC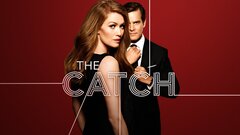 Powered by