5 Things We Know About 'The Catch' Season 2 Finale
The second season of ABC's The Catch has a lot in common with the first season of the Shondaland series—it sits firmly on the bubble between getting renewed for another season and, on the less desirable side, getting canceled.
That said, the sophomore season has been enjoyable to watch as the writers, led by series creator Allan Heinberg, have leaned into the comedy of the series more as opposed to focusing on serious drama. While there were still criminal cases that con man Ben (Peter Krause) found himself involved in (at the behest of the FBI, led by new cast member Gina Torres), it kept him out of jail and with the love of his life, Alice (Mireille Enos), who was dealing with her own problems since her investigation business had fallen on hard times.
Also, keeping unscrupulous siblings Margot (Sonya Walger) and Rhys (John Simm) firmly entrenched in the action and even adding (surprise!) Margot and Ben's daughter, Tessa (Philippa Coulthard), has only made all the relationships more complicated.
See Also
Is the end in sight for for the Shonda Rhimes hit series? Reports say YES.
So, while we have yet to know if this is the season or series finale of the series, here are five things that Heinberg shared with us about what we'll see as Season 2 wraps up, and his thoughts on getting that coveted third season.
The Ben/Alice/Ethan triangle isn't over: Not only are we seeing Alice conflicted over possible lingering feelings for her ex, but Ben and Ethan have even gotten to know each other, which will continue to make it a challenge for the audience to choose a side. "It was also really fun to be able to put Ben and Ethan on the same side in [last week's episode]. That was a big goal for us was to see what kind of team they would be together," said Heinberg. "We just really enjoyed making it complicated and not easy for the characters or for the audience."
Alice has a lot of feels over Tommy returning: While we've seen some great emotional moments between Alice and her brother (T. R. Knight) this season, she is also very aware of who her brother is and that trouble seems to be in close proximity wherever he goes. And now that he's "Mockingbird," that level of trouble will probably reach new highs. "I think we can safely say that, based on what she knows about Tommy, she is going to have a hard time accepting him as a criminal mastermind," says Heinberg. (Sorry, Alice, but it's kinda fun seeing you worked up over Tommy!)
The Margot-Danny Romance is a pleasant surprise: Besides knowing that Sonya Walger and Jay Hayden could be fun together, it also helped shape both characters to see their romance go beyond just a quick fling. "We discovered the potential to have Danny really be the only person who is unafraid of her. Conversely, he's the only person in Margot's life who doesn't want anything from her. It gives him a strange kind of confidence and a strange kind of strength in her presence." But will their romance blossom even more or crash and burn in the finale? Watch and find out!
There's something about Tessa: The addition of Ben and Margot's daughter has helped viewers see both characters not only as exes but as parents to their saucy offspring. "Having this daughter and spending time with this girl, who is basically a stranger to both of them, has altered [Ben and Margot] as people. That they're willing to risk their lives to save her is something that neither of them was ready for. Ben even questions it by asking, "I can't believe I'm putting myself at risk for someone I don't really know."
Big hopes for another season: If you haven't noticed, with broadcast network upfronts happening next week in New York City, we're finding out which shows will live to see another season (yay Gotham!) and which might be wrapped for good (sorry, Last Man Standing). How did Heinberg craft The Catch finale not knowing its fate? "Both seasons ratings-wise, we knew we were on a bubble, so the goal was to have a provocative cliffhanger that is also satisfying if it were to be the end of the show, so you want to give the viewers everything. I don't want to spoil too much for readers, but you want to give them, not necessarily a happy ending because it is a cliffhanger, but ultimately, you want to give them a satisfying one."
[Editor's Note: It was announced on Deadline just hours before the season finale aired that ABC would not be renewing The Catch for a second season.]
The Catch, Thursdays, 10/9c, ABC; Season 2 finale May 11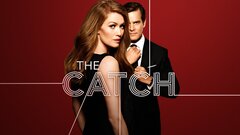 Powered by