'The Catch': Benjamin Plays 'I Spy' Before He Meets Alice (VIDEO)
On this week's episode of The Catch, a planned rendezvous between Alice (Mireille Enos) and Benjamin Jones (Peter Krause) gets a little crowded when Agent Dao (Jacky Ido) shows up uninvited. But in this exclusive scene from "The Larágan Gambit," Ben's eagle eyes spy the Frenchman first.
RELATED: The Catch Adds More Twists and Turns to the Shondaland Lineup
Check out the scene below!
This week, Alice and Rose are shocked to discover their longtime political client is being blackmailed by compromising photos. When will people learn that dirty pics can last forever? And from the look of pics released by ABC, Margot and Ben don their dapper duds for a high-stakes jewelry heist. If you think Ben's hot in his usual uniform of a shirt and sport coat, just wait until you see him in black tie!
The Catch, Thursdays, 10/9c, ABC.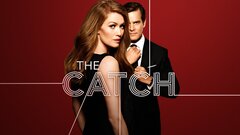 Powered by