Roush Review: Return of a Merry 'Catastrophe'
We're in a boom time for screamingly funny streaming comedy, with new episodes of former Fox cult sitcom The Mindy Project returning to Hulu next week (April 12), followed by a second season of Netflix's wacky Unbreakable Kimmy Schmidt (April 15). But my current favorite, launching a second season today on Amazon, is the caustic British import Catastrophe, an endearingly raunchy and unusually realistic inversion of the rom-com where first came lust, then came pregnancy, followed by marriage—and, grudgingly, love.
RELATED: Catastrophe's Crazy Couple Returns With (More) Unbelievable Situations
Series creators and writers Rob Delaney (American) and Sharon Horgan (Irish) star as, who else, Rob and Sharon, whose fateful tryst in London has led to a life of domestic turmoil with the sting of Edward Albee and the raw intimacy of Judd Apatow. As the show jumps forward a few years in Season 2, this accidental couple now has a second baby, which only adds to their petty aggravations and harrowingly comical mood swings. At this stage, a sweet nothing might sound like this, from Rob: "Did you get it all out or will I still get to listen to your nightly screed?"
More Roush Reviews: See What Matt Thinks About Other Shows
Whenever they lash out at each other in exhaustion and frustration, which is often, the moment invariably leads to shocked laughter, a humor laced with desperation and need. Somehow, they're still into each other, and they're both so engagingly unaffected—he's forever horny, she's relentlessly snarky—that we root for them to survive any obstacle, including a hilarious Carrie Fisher, recurring as Rob's distant and dismissive mother.
The greatest calamity about Catastrophe is its brevity. At only six episodes a season, the desire to binge results in instant separation anxiety. More, please.
Catastrophe premieres Friday, April 8, on Amazon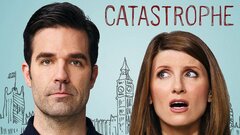 Powered by