'Catastrophe's Crazy Couple Returns With (More) Unbelievable Situations
Imagine When Harry Met Sally but with an American named Rob (Rob Delaney) and an Irishwoman called Sharon (Sharon Horgan). And when Rob meets Sharon—while on a business trip in London—they spend several nights together and she accidentally gets pregnant. So Rob decides to move to England, where they have more sex, argue a lot and, ultimately, get hitched. That's the basic premise behind the U.K. comedy Catastrophe, which premieres its entire six-episode second season on Amazon April 8. Creators and stars Delaney and Horgan talk about childbirth, intercourse and what's on the (kids) menu for Rob and Sharon in Season 2.
Why'd you guys decide to set Season 2 three years after the end of Season 1?
Delaney: We were desperate to show them as a married couple deeper into their relationship.
Horgan: Sharon's suffering from postnatal depression, her father has dementia and Rob's mom [Carrie Fisher], like any overbearing mother-in-law, has camped in their house for way past her sell-by date.
PHOTOS: 7 TV Time Jumps That Were Done Right
Most of the show comes from your real lives. What do you have to keep assuring people actually didn't happen?
Delaney: In Season 2, there's a pretty elaborate vomiting scene. Thank goodness, that never happened in real life. And neither of our wedding rings ever got urinated on.
Horgan: People always assume Rob and I are in an actual relationship. That's something we need to quash.
Have your kids ever walked in on you having sex, like in the first new episode?
Delaney: God, I pray for every person who has young kids that they do walk in on them, because that means there's sex to be walked in on!
Catastrophe, Season premiere, Friday, April 8, Amazon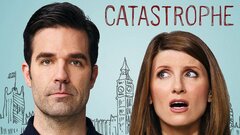 Powered by