5 Things We Learned From 'Outlander's Red Carpet About Season 2
With just four more days until another Droughtlander officially ends, and Outlander premieres on April 9 (or Thursday, April 7 if you're a Starz subscriber), we thought we'd share a few more exciting things we learned about Season 2 while on the red carpet for the world premiere at the American Museum of Natural History on Monday night (April 4).
There's a Ton of Time Travel, and Just Regular Travel This Season, but the Cast Prefers Scotland
With Claire (Caitriona Balfe) and Jamie (Sam Heughan) heading to France to stop a war in Season 2, the reappearance of the '40s with Frank (Tobias Menzies), and the introduction of the 60s in sight, it's safe to say this is a jam-packed sophomore season. "There's a very different look and feeling in the Paris section of the show, and then it's going to return to Scotland and become more of a war story, and it's going to feel more like two seasons," executive producer Ronald D. Moore says. "And there's the '40s, and there'll be some '60s as well. There's a lot of time travel."
But the cast really seems to prefer the Scottish Highlands to anything else. "Suddenly they were in this other world, and there was this feeling on the set for awhile that was like, 'When do we get back to Outlander?,'" Moore says. "And when we finally got to the Scottish portion of the season, everyone was like, 'Oh, it's Outlander again.'"
RELATED: Want to Catch Up With Outlander? Starz Offering Season 1 For Free
Frank Will Learn About Time Travel Finally
The next time we see Claire's loving husband from the '40s, he won't be the same man, and soon he'll be joining the club of people that know about Claire's time-hopping abilities. "He's been through two years," Menzies says. "He thinks he lost Claire. He's someone who's been through a lot. We see him having to grapple with some of the stranger premises about the show. He's being told about time travel, so you see him up against those profoundly unnerving questions."
Sam Heughan Loves His Kilt
Jamie may be in Paris, but he won't entirely do as the French do. "We had to keep Sam from putting on the kilt every day in Paris," Moore says.
"I think it's important that we see the kilt in France," Heughan says as he defends the kilt. "Jamie's not someone else. He's obviously playing someone else, but that's when he feels comfortable, and actually for him, the kilt is a reminder of his home. He's strongly connected to Scotland and his past, his family, his people, and that's why he's here, to save these people. You will see the kilt in France."

He Also Loves Caitriona's Prosthetic Belly Bump
At the end of Season 1, Claire revealed to Jamie that she was with child, which was especially shocking after she couldn't conceive with Frank. Although there will be plenty of corsets and big skirts, we're still going to see a baby bump for the future Fraser. "There was an amazing prosthetics team that created this beautiful little belly that I think Sam got more attached to than I did," Balfe reveals.
RELATED: How Outlander Is Taking the Art of Love (and War) to Paris in Season 2
Nothing Outweighed the Wedding Dress, But…
Of the colorful and elaborate dresses designed by Terry Dresbach this season, not one outweighed Season 1's gorgeous wedding dress (which clocked in at 30lbs), but one dress had a stunningly large width. The dress in the Vive Les Frasers promos, and in episode 2 (right/above) was 4 foot 2 inches wide, according to Balfe. "It was interesting trying to maneuver your way through hallways and doorways and cars, but it was all fun," Balfe says. Width beats weight, I guess?
Outlander, Season Premiere, Saturday, April 9, 9/8c, Starz.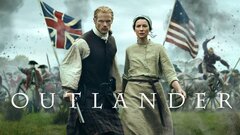 Powered by