In 'Confirmation', Kerry Washington Tackles Another Capitol Hill Scandal
Now this was a scandal. Kerry Washington, who knows a thing or two about political misconduct, heads the cast of the HBO film Confirmation, a piercing look at a watershed time in U.S. history—the 1991 nomination of Clarence Thomas to the Supreme Court and the lurid sexual harassment charges brought against him by Anita Hill.
QUIZ: How Well Do You Know Shondaland?
America had never witnessed anything like it. Hill, a law professor who once served as Thomas's assistant, claimed during the televised Senate hearings that her former boss had made unsolicited sexual advances toward her, crowing about his prowess at oral sex and reveling in his love for pornography.
But Hill didn't come off in this "he said, she said" like some weepy, distraught victim, and she took flak for it. Instead, she was calm, measured and clearheaded in her testimony, the epitome of grace under pressure. This so threw her critics that they painted her as everything from a vengeance-seeking bulls–t artist to a nymphomaniac consumed by erotic fantasies. The Senate committee, which was led by Joe Biden—yes, that Joe Biden—seemed to relish making Hill continually repeat her more sexually graphic accusations. Ultimately, Thomas was narrowly approved for a SCOTUS seat by a vote of 52–48.
"Sexual harassment is a big topic of conversation now, but it wasn't openly discussed back then, and definitely not on television," Washington says. "That all changed with the hearings. Thanks to Anita Hill, more and more people are reporting harassment. Workplaces have HR departments to protect those who've been abused. But, the truth is, most people under 30 don't know the history here. Anita Hill's name may sound a little familiar to some of them…and that's about it."
But Washington—also an executive producer on the project—insists that Confirmation was not made for the purpose of teaching. "The point of this film is to let people feel the emotional journey of the characters and apply it to their own lives," the Scandal star says. "It helps you navigate your own experiences with race, gender and feelings of powerlessness in this world. The story of Anita Hill and Clarence Thomas is our story."
Hill chose to cooperate with the production, meeting in person with Washington and screenwriter Susannah Grant (Erin Brockovich). Thomas did not. But that didn't stop veteran actor Wendell Pierce, acclaimed for his work in The Wire and Treme, from delving deep into the role of the controversial nominee.
"My politics and his are far apart, but I found a way to empathize with Thomas by focusing on his human dilemma," Pierce says. "This is a man at the pinnacle of his career who was about to lose it all because of something that happened in his past. He denied the charges, but he still had to come to grips with them. There was a lot of pain and self-reflection."
Then there's Biden, who refused to call three female witnesses who would have backed up Hill's claims, a decision that riled feminists and pretty much handed a victory to Thomas. Biden gave the hearings short shrift in his 2007 memoir, Promises to Keep, and has never apologized to Hill, though he has expressed regrets about undermining her.
"There's no question Anita Hill was incredibly credible in her testimony, yet Biden gave the benefit of the doubt to Thomas," says Oscar nominee Greg Kinnear, who plays the future vice president. "To Biden's credit, he eventually voted against the Thomas confirmation, but he was in a winless situation."
One he's still paying for. "We were shooting Confirmation when talk started about Biden making a run for the presidency," Kinnear says. "And you could just hear the Clinton camp turning their cannons around and aiming them at Joe because of what he did in the hearings. It was a pivotal event that changed the nation and the culture forever. But it was nobody's finest hour."
 Confirmation, Saturday, April 16, 8/7c, HBO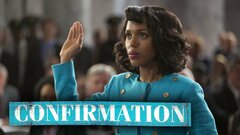 Powered by