'Scandal' Cast and Producers on Possible Endings, the 'Olitz' Breakup and the TGIT Hillary Clinton Spot
Scandal's future isn't in jeopardy—the series was already renewed for next season—but executive producer Shonda Rhimes has an idea of how it might eventually end.
Rhimes won't give specifics, but she told fans gathered Tuesday night in Hollywood at PaleyFest that she knows where and when Scandal could wrap things up.
Before the panel, Rhimes told TV Insider she's still mulling how to handle the (eventual) finale: Give fans an early warning, or wait until later in the farewell season? "I haven't thought about how we were going to announce it," she said.
When Scandal does end, Kerry Washington (Olivia) is content to let the show's writers take her character wherever they deem best. When asked where she'd like Olivia to ultimately end up, Washington said "the question feels so foreign to me, because at no point in these five years has any decision that Olivia made been because of something I wanted. It's been because of who Olivia is and the great writers."
The actress added that Olivia felt very real to her. "To be honest with you, I don't feel I have that control over her," Washington continued. "I feel almost like my job is to live with her and hold a space with her—a very non-judgmental space for her—and allow her to be who she is. I want her to fully be on her journey, and at some point I want her to be at home and happy and peaceful. I don't have an attachment to what that looks like. I don't have an attachment to a particular person or place or situation. She has a lot of work to do on herself. Whatever it looks like, if it brings her joy and peace, I'm in."
After one fan expressed disappointment that Olivia and Fitz (Tony Goldwyn) broke up so soon after getting together, Rhimes defended the split. "Olivia has been on a journey since we started," Rhimes said. "I've always looked at it like that. It's interesting to me that it's a romance–the primary story is a romance, that's what you've seen. To me, her primary story has been discovering of herself."
Rhimes admitted she's glad fans rooted for the relationship. "I'm happy you have fallen in love with Fitz, because that's the journey Olivia went on; we went on Olivia's journey with her," she said. "She fell in love with Fitz, she fell into a forbidden romance, she bought the fantasy. And then she got the fantasy and discovered the fantasy was not real."
But even though it didn't work out, Rhimes insisted that it does not mean Olivia does not love Fitz, or that Fitz is not worthy of love. "It just means that Olivia does not know who she is yet," she said. "And the idea that… she was going to move into the White House and become Mellie, who was the unhappiest woman you had ever seen in your entire life, is a farce. That she was going to surrender every single piece of herself and who she was to become a prisoner inside the White House, and basically be an appendage to him, was not going to work. For Olivia, the breaking free of that–while painful–was the first step to realizing she was not who she is supposed to be. Her father has been saying that forever. While many [fans] may think he's evil, he's also representing a lot of truth."
RELATED: Annabeth Gish on Being Fitz's New Love Interest
Off-screen, the show made headlines with a pro-Hillary Clinton spot that aired during ABC's Rhimes-produced TGIT lineup on March 10. In the ad, Washington, Grey's Anatomy's Ellen Pompeo and How to Get Away With Murder's Viola Davis all threw their support behind the Democratic frontrunner.
"The thing that was amazing about it is it all came together in a matter of days," Goldwyn recalled. "It was a bunch of people who were not afraid to speak their mind about something they felt passionately about, and put their reputations out there and say this needs to happen. It was one of these things of a common cause. I got a call from the campaign; they had this insane idea, they had just spoken to Shonda and she said, 'I'm in,' and everyone else said yes. We put together a team, and made it happen in a matter of days. And then it aired four days later in support of tonight's election."
Though the TGIT ladies didn't shoot the spot together, "we emailed back and forth about it," Washington said. "The thing we wanted to be really clear about is we made this decision as individuals. This wasn't ordered from above with Shonda telling us what to do. It was each of us having a decision to make…it felt really special to make that decision as a group."
In addition to the spot, Clinton visited the set while Scott Foley (Jake) was directing an episode. "It was the last shot of the night, I had no idea she was going to show up," Foley said. "The cameras were rolling, and someone was like, 'Wait, wait, wait, wait, wait.' I turn around, like, 'Come on, let's get on with it; everyone wants to go home.' And three highway patrol men came through, and then a documentary film crew came through, and then…Hillary emerged. I was like, 'Oh, God.' I didn't know what to do. She sat behind me, and I was like, 'Yeah, we're good!'"
And if that scene doesn't turn out the way Foley hoped? "Blame Hillary!" Foley cracked.
Scandal airs Thursdays at 9/8c on ABC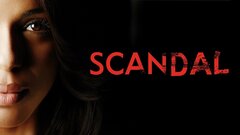 Scandal
where to stream
Powered by