Roush Review: 'Confirmation' Revisits a Scandalous Chapter of Politlcal History
Who knew that reliving our long national TV nightmares could be so enthralling?
Barely have we had time to recover from the exhilarating rush of FX's The People v. O.J. Simpson: American Crime Story before HBO rattles our memory cage further with an explosive re-creation of another galvanizing spectacle that had us glued to the TV some three years earlier.
More Roush Reviews: See What Matt Thinks About Other Shows
Confirmation reconfirms what it was about the incendiary 1991 hearings for Supreme Court Justice Clarence Thomas that rocked the world way beyond the clubby confines of Washington, D.C.: a combustible concoction of sex, race, gender and judicial politics that both titillated and mortified all who couldn't stop watching. In one of the well-chosen news excerpts from the time, NBC's Tom Brokaw laments during the height (or depth) of the controversy: "No one likes what's going on, and there are no real winners. We have gone from shock to discomfort, now to a combination of anger, depression and shame."
RELATED: In Confirmation, Kerry Washington Tackles Another Capitol Hill Scandal
All of these emotions are palpable in the riveting docudrama scripted by Susannah Grant (Erin Brockovich) and directed by Rick Famuyiwa (Brown Sugar). It clearly sympathizes with Professor Anita Hill (a restrained and moving Kerry Washington), the center of a firestorm when she reluctantly testifies about her former boss's alleged sexual harassment. "When someone comes forward, the victim tends to become the villain," she explains with fearful trepidation to a senator's aide who urges Hill to go public with her graphic charges.
And so it plays out in a grim chapter of political theater, where the true villains are the senators seeking to smear the accuser. As the accused, the tremendous Wendell Pierce (The Wire) humanizes Thomas by emphasizing his indignation and rage at what he would famously describe as a "high-tech lynching."
Watch closely amid the tumult for a glimmer of delicious TV irony, because one of the supporting players in the first Bush administration is deputy press secretary Judy Smith (Kristen Ariza), who muses while watching Hill on TV: "She doesn't look cheap to me." Smith would go on to become a celebrated crisis manager and the inspiration for Washington's role of Olivia Pope on Scandal—which even at its most outrageous can't conjure a scenario as memorable as the events that play out in this excellent film.
Confirmation premieres Saturday, April 16, 8/7c, on HBO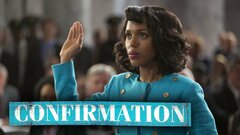 Powered by