'Manifest' Season 2 Trailer Puts the Passengers Back on Flight 828 (VIDEO)
They have to go back?
Manifest might not be returning for its second season until 2020, but we already have new footage as NBC released a trailer Wednesday.
"Why are we back on Flight 828?" Michaela (Melissa Roxburgh) asks, looking around the plane.
But she, Ben (Josh Dallas), and Cal (Jack Messina) aren't the only ones there. So is Zeke (Matt Long), who wasn't even on the original flight. Still, he too might have a death date equivalent to the amount of time he was "gone."
"Save the passengers," Cal tells Michaela, suggesting she's at the center of whatever's going on. Is this a calling?
"The characters will continue to discover that the callings are raw tools to be utilized," executive producer Jeff Rake told TV Insider. Is there a new threat to the passengers?
Or could this be a dream? Was Michaela the one shot when she interrupted the fight between Zeke and Jared (J.R. Ramirez) and the gun went off? This could be something she's experiencing while she's unconscious.
Speaking of that cliffhanger, we'll find out who took a bullet "early in the season premiere," Rake promised.
Manifest, Season 2, 2020, NBC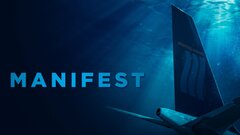 Powered by