'The Grinder' First Look: Jenna Fischer and Chris Klein Flash Back to Dean's Past (PHOTO)
The Grinder's actor-turned-lawyer Dean Sanderson (Rob Lowe) is getting his own origin story—and a throwback haircut!
Tuesday's new episode of the Fox freshman comedy flashes back to Dean's past as a struggling actor at a crossroads in his life and career. While Dean dreams of becoming TV attorney Mitch Grinder, his controlling fiancé Kelly (The Office vet Jenna Fischer) does not share the same goal, and instead pushes Dean toward settling down and working for her father. Meanwhile, Dean's acting buddy Benji (American Pie's Chris Klein) plans to audition for The Grinder himself, but tries to convince Dean that the role is meant for him.
RELATED: Rob Lowe and Jenna Fischer on You, Me and the Apocalypse
Check out a first look at Fischer above and Klein below.
The Grinder airs Tuesdays at 9:30/8:30c on Fox.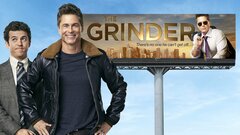 Powered by