Roush Review: 'You, Me and the Apocalypse' Defies Doomsday Satire
With so many choices on so many platforms, some are beginning to see this overwhelming age of "peak TV" as a programming apocalypse of sorts. The upside is that some truly strange tales—that in another time would never have seen the broadcast light of day—are now being exposed on even mainstream networks. Latest example: NBC's import of the weirdly engaging British co-production You, Me and the Apocalypse, a darkly comic end-of-the-world saga that defies categorization.
Just when you think you've probably seen everything comes a show that seeks to invent a new genre: pre-apocalyptic TV (as opposed to the usual post/dystopian norm). The series opens in a crowded bunker in the minute before a comet fatefully strikes Earth, with a bizarre assortment of characters anxiously awaiting what the media breathlessly describe as an "extinction event." How did they get there? That's the story, at least in the five episodes available for preview, counting down the last 34 days before the impending disaster.
And what a wild ride these episodes are, hopping around the globe and abruptly shifting tone (sometimes within scenes) from arch comedy caper to picaresque fable to violent melodrama to poignant personal quest. The one thing all of these disparate subplots have in common is that they inhabit a world of extremes. A welcome change from formula blandness, but still, yikes.
MORE REVIEWS: Here's What Critic Matt Roush Loved (and Loathed)
Even the most ordinary character, melancholy milquetoast British bank manager Jamie (the charming Mathew Baynton), finds his life suddenly upended on an otherwise drab birthday when he's arrested on an absurd charge of treasonous cyber-terrorism. Life has already conspired against timid librarian Rhonda (a winsome Jenna Fischer), unjustly imprisoned in a New Mexico jail and taken under the wing of the insanely racist Leanne (feverish Megan Mullally). As their lives dramatically evolve amid a world panicked by the prospect of imminent doom, we know their paths will eventually cross with that of Father Jude (Rob Lowe, who filmed this before The Grinder began), a chain-smoking and foul-mouthed cynic of a cleric whose job as "devil's advocate" for the Vatican changes to rooting out false, or possibly real, Messiahs as humanity anticipates a second coming.
You may well ask, "This is a comedy?" The answer is, kind of, evoking the doomsday satire of Stanley Kubrick's Dr. Strangelove (especially in scenes within the White House war rooms, where a phony "Operation Savior" plan is concocted to try to keep the public calm).
Where Apocalypse is least successful is in driving the narrative forward with eye-rolling coincidences, and jarring twists that often involve one character drawing a weapon on another in some sort of over-the-top hostage scenario. Mullally as a drawling backwoods Nazi, with a swastika tattooed on her forehead, is the most adept at conveying an outrageously unpredictable anything-goes sensibility, but it's Fischer, Lowe and especially Baynton—whose comic thriller The Wrong Mans on Hulu (co-starring James Cordon) shares a similar unconventional DNA—who ground this wildly original but scattershot show with a yearning, soul-searching bewilderment.
Which is what many unsuspecting viewers may feel as well if they stumble unprepared into this truly odd universe. NBC has been promoting Apocalypse as if it's a merry romp, but it's way darker and more bizarre than that. Not for all tastes, to be sure, but boy does it have flavor.
You, Me and the Apocalypse premieres Thursday, Jan. 28, 8/7c, on NBC
---
Questions? Ask Critic Matt Roush!
TV critic (and occasional TV therapist) Matt Roush answers viewer questions and concerns in his Ask Matt column each week. Wondering about plots, characters and twists on your fave shows? Submit your query to Matt via the form below: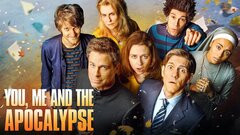 Powered by