Roush Review: Agatha Christie's 'And Then There Were None' Is Deadly Fun
Trust no one. Fear everyone.
A delicious shroud of menace envelops an isolated island estate even before the bodies begin piling up in a chillingly, thrillingly faithful and marvelously well-cast adaptation of Agatha Christie's landmark 1939 suspense masterpiece, And Then There Were None. If you (like me) have long been waiting for a version that lives up to Christie's fiendishly constructed and ruthlessly executed maze of grisly mayhem, rejoice. This None has everything.
The brilliance of Christie's conceit is that no one trapped in this deadly game is an innocent victim. Summoned to a remote mansion by an unseen host, eight guests (and two creepy servants) are quickly exposed to be harboring, and in a few cases flaunting, murderous skeletons in their personal histories with varying degrees of remorse. Lady Macbeth's stubborn spot has nothing on the ghosts haunting (sometimes too literally) these tarnished souls.
More Roush Reviews: See What Matt Thinks About Other Shows
Not until midway through the miniseries' two dark and stormy nights does the first body drop, but it's great stargazing fun from the start. Look, it's Game of Thrones' Tywin Lannister (Charles Dance) as a cadaverous judge. And Poldark himself (a smoldering Aidan Turner in full matinee-idol swank) as a sexy mercenary. And the ever-welcome Miranda Richardson as a hypocritically pious spinster. And Black Sails' Toby Stephens as a twitchy doctor. And Jurassic Park's Sam Neill as a war-weary general, who's the first to realize that "no one's coming for us … this is the end."
In its own macabre way, And Then There Were None predates Lost in its use of man-as-an-island metaphor for purgatorial retribution, with flashbacks and the occasional nightmare revealing each person's sordid transgression. "It's a relief to come to the end, to know that it's over," the general fatalistically decides.
Most of the rest of his reluctant companions are nowhere near so accepting. As the body count rises, the paranoia and hysteria escalate, with accusations flying and nerves shredding while everyone wonders who's next. "We're being hunted," Turner's mercenary keeps insisting. They're also being played, and the graphic denouement is especially cold-blooded. And satisfying, if that's your thing. (I loved it.)
How Lifetime landed this deluxe BBC collaboration, and not Masterpiece, is a mystery—but with Downton Abbey now history, and PBS taking a breather this Sunday, consider this your weekend wallow in British intrigue at its most cunningly entertaining.
And Then There Were None premieres Sunday and Monday, March 13 and 14, 9/8c, on Lifetime
---
Questions? Ask Critic Matt Roush!
TV critic (and occasional TV therapist) Matt Roush answers viewer questions and concerns in his Ask Matt column each week. Wondering about plots, characters and twists on your fave shows? Submit your query to Matt via the form below: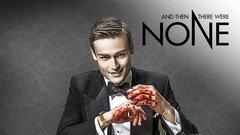 Powered by