Agatha Christie's 'And Then There Were None': A Shirtless Aidan Turner Is Just One Reason to Watch
Ten strangers arrive on an island. Only instead of tiki torches and Jeff Probst, they're greeted by absentee hosts and each accused of a terrible crime—before getting systematically (and mysteriously) killed off one by one…
Thus begins the BBC Adaptation of the Agatha Christie novel, And Then There Were None, which will air on Lifetime this Sunday and Monday. The miniseries, which is set in 1939 on the Devon coastline in southern England, follows the guests as they try and survive in dwindling numbers, while also working to figure out which—if any—of them is the murderer.
Here are the four reasons why you should watch the miniseries, including the eye candy.
The nail biting mystery is a real guilty pleasure.

There's a reason the novel continues to remain not just one of Christie's best works, but also one of the best-selling crime novels of all time. While the central mystery has kept readers (and viewers) guessing the killer's identity, what elevates it from being a standard "whodunnit" is Christie's exploration of guilt and criminal motivation, something the adaptation builds on as each character's forced to confront accusations aimed at them. As the series goes on, it becomes less about who is murdering everyone and more about how everyone is coping with the deaths—which makes for some memorable performances from a star-studded cast.
RELATED: 8 Detective Shows That Capture The Spirit of Agatha Christie
The '30s time period means some beautiful drama.
As if an unknown murderer on the loose isn't concerning enough, characters trade thinly veiled digs and insults quite easily over meals and cups of tea, turning simple conversations into barbed minefields. This, and the sumptuous period costumes and sets, add a richness to all the characters' interactions with one another.
There's an epic cast of recognizable British actors.
Adapting an author as beloved as Christie is not easy, so it's a good thing that the people bringing her characters to life are some of the best British actors working today. Fans of period dramas will instantly recognize Bletchley Circle's BAFTA-winning Anna Maxwell Martin, Black Sails' Toby Stephens, Poldark's Aidan Turner and Great Expectations' Douglas Booth (who's also in the upcoming Pride and Prejudice and Zombies).
For those into fantasy and science fiction, they'll recognize Game of Thrones' Emmy nominee Charles Dance, Torchwood's Burn Gorman, Jurassic Park's Sam Neill and Miranda Richardson (aka. Harry Potter's Rita Skeeter).
Aidan Turner will be in another shirtless scene.

Poldark allowed the world a glimpse of Aidan Turner sans a shirt. And Then There Were None also allows him to dispense with another shirt (temporarily), granting viewers a bright spot among the slowly piling bodies and the cloud of suspicions hanging in the air. Of course, it also helps that Turner turns in a riveting performance.
And Then There Were None airs at 8/7c on Sunday and 9/8c on Monday at on Lifetime.
[jwplatform AM1zTwoe]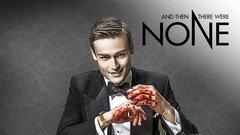 Powered by