Al Sharpton Declares Victory for Oscar Boycott as Ratings Fall The 2016 Oscars ranked as the second-lowest on record, with 34.3 million tuning in (down from last year's 36.6 million). In a statement, Rev. Sharpton called the low viewing numbers "heartening to those of us that campaigned around asking citizens to tune out. This is a significant decline and should send a message to the Academy and to movie studio heads. Though clearly we don't take full credit for the decline, certainly one would have to assume we were effective and part of the decline. And to those that mocked the idea of a tune-out, it seems the joke was on them."
The Fairly Legal and Person of Interest alum will take on the title role on Drew, playing a modern thirtysomething version of the iconic teenage sleuth character. CBS boss Glenn Geller had previously said that the character would be played by a diverse actress. Shahi is of Iranian, Persian and Spanish ancestry.
After the ceremony, The Revenant director, who took home the best director award, was ticked off, especially since he was trying to make a point that diversity included Latinos and Asians, not just African-Americans. "I hadn't even used all my time when they started to play me off," he said. When asked, producer Reginald Hudlin said, "it was just one mistake in a three and a half hour show."
With Mark Harmon on board, CBS announced that the procedural will be back for Seasons 14 and 15.
In the wake of Bachelor alum Lex McAllister's death, the NY Post counted up all the reality stars who have succumbed to ending their lives.
That's according to Lowen Liu, who adds that the Rock's Asian joke coupled with Sacha Baron Cohen's Asian joke "were not just a blip in the night. They were a huge deflation." PLUS: Media Action Network for Asian Americans co-founder Guy Aoki said "they just reinforced that fear for millions of Asian Americans across the country. They're basically saying, 'Yep, we look at you guys as a joke.'"
The new innovation made things more awkward, and it was hard to read the names when they were scrolling by so fast.
Rock personally approached the Girl Scouts two weeks ago, and they came out the biggest brand winner from the Oscars, even though no money exchanged hands. PLUS: Here are all the cookies celebrities bought.
Or what about Tina Fey and Steve Carell or Joseph Gordon-Levitt?
The Ugly Betty alum will play the white bride of a black ex-NFL lineman.
The Bitten star talks about returning to her comic book roots on tonight's episode of Supergirl.
Robert Carlock says of the episode, "We were always creating a universe that was a little sideways, a little parallel to the one we experience every day."
Check out "For Your Incarceration."
It's Not Okay: Turning Heartbreak Into Happily Ever After is due out on May 10.
Check out Abrams with Jennifer Garner and Victor Garber.
The newly posted featurette looks back at Season 5 as it offers new clues for Season 6.
Bret McKenzie and Jemaine Clement plan to release new material for their summer tour.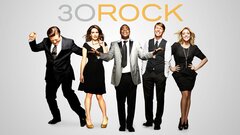 30 Rock
where to stream