'Manifest' Newbie Matt Long Teases a Zeke-Michaela-Jared Love Triangle
As if NBC's Manifest doesn't have enough twists and turns, enter Matt Long's character, Zeke Landon.
Zeke literally barged into siblings and Flight 828 passengers Ben (Josh Dallas) and Michaela's (Melissa Roxburgh) lives after they tracked a missing Cal to a deserted cabin in the Catskills. Zeke appeared at their door, suffering from hypothermia.
See Also
Her identity was revealed on the latest episode.
When he came to, the hiker revealed he was trapped in a freezing cold cave for two weeks. But in true Manifest form, his perception of time is skewed. It's actually been one whole year and Zeke was considering a missing person or dead, much like the infamous 828 passengers.
Michaela takes Zeke under her wing, explains the Flight 828 experience, and together they're trying to figure out how the two mysterious time jumping events are connected.
"The only connection potentially is the fact that there was a huge storm," Long explains to TV Insider. "In the plane, there was dark lightning as they were flying and my character experienced a huge snowstorm in the cave. It hasn't been explained but you can relate the two experiences. And there's also a connection to the van driver that the police just pulled out of the water after being down there for days."
In the February 11 episode, Zeke becomes more involved with the Flight 828 passengers and meets Jared (J.R. Ramirez), Michaela's complicated romantic interest. Could a love triangle be forming? "A romance hasn't happened yet between Michaela and Zeke and I'm curious to see myself," admits Long.
"Jared does meet Zeke and he is immediately hostile. I understand it because Michaela was in the woods with this guy and trusts him. She's letting him live in her apartment. Jared is jealous in a way because both Zeke and Michaela experience these callings. Zeke is a threatening person to come into Jared's life and he starts doing some digging into Zeke's past."
See Also
Why did the plane really go missing?
The show's plot remains a mystery to Long, who says he likes to be surprised by the developments. "Even on set you hear rumors among the crew or the other actors. I just go straight to Jeff Rake [the executive producer] and ask, 'Is this true?!'"
The actor, who has appeared on other series like Mad Men and Jack & Bobby, also keeps track of his character's journey by making notes on his script as he films each scene.
When asked about his involvement in a potential second season, Long was enthusiastic that we'll see Zeke a lot more — "We haven't been picked up for the second season yet but if we do, my character plays a really important role in the mystery of the show, so it's looking good I'll be back."
Manifest, Mondays, 10/9c, NBC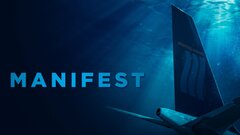 Powered by