5 Questions With Tiya Sircar of Lifetime's 'Christmas Lost and Found'
The holiday season's bounty of sweet flicks continues this weekend on TV's coziest networks, including Lifetime.
On Friday, Dec. 7, Tiya Sircar stars in the Lifetime holiday film Christmas Lost and Found as New York City event planner Whitney Kennison, who, after years of missing family festivities, heads to Chicago to spend Christmas with her beloved Grandma Frances (Diane Ladd). Frances has decided to bestow Whitney with precious family Christmas ornaments, but when Whitney mistakenly throws them out, Grandma devises a stealthy scavenger hunt to remind Whitney what Christmas is all about.
When TVInsider caught up with Sircar, the Alex Inc. and The Good Place star revealed a few of her holiday faves when she answered a very merry version of our "5 Questions."
1. What is your favorite Christmas song to sing?
My favorite Christmas songs are "Last Christmas" by Wham! and "All I Want for Christmas Is You" by Mariah Carey. Mariah isn't easy to attempt to sing along to, but that sure doesn't stop me from trying!
2. What is a holiday tradition that your family does every year?
My family is spread out all across the country, so we make sure to always spend the holidays together. We love to cook Thanksgiving and Christmas dinner together. My mom is always in charge of the main dish (usually turkey for Thanksgiving and lamb for Christmas). I'm in charge of side dishes (usually a potato dish and a few vegetable dishes). And my sister handles dessert. She's great at baking delicious pies and things. My dad relishes his job as Chief Taste Tester. It's a tough gig, but someone's got to do it!
3. What TV show's holiday episode stands out as a favorite?
I'm a huge fan of Friends, and while they gave us quite a few memorable holiday episodes over the years, my most favorite has to be "The One With The Holiday Armadillo." It's the episode where Ross dresses up as a "holiday" armadillo because the costume store ran out of Santa suits. It's hilarious and so very quotable.
4. What holiday food do you most look forward to eating?
I love to cook during the holidays, but I love to eat even more! And lucky for me, my mom is an incredible cook, so I always look forward to eating anything she makes. But every Christmas, she makes a pecan pie for dessert, and, oh, man, it is to-die-for.
5. Which holiday movies do you watch every year?
When I was a little kid, my sister and I would watch Babes in Toyland (the 1986 version) every Christmas. But as an adult, I'd have to go with Die Hard. Best. Christmas movie. EVER! I also never get sick of watching Home Alone and It's A Wonderful Life.
Christmas Lost and Found, Friday, Dec. 7, 8/7c, Lifetime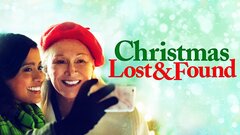 Powered by