'Today' Co-Anchors Savannah Guthrie & Hoda Kotb on Their Friendship, Motherhood & Tough News
Whether they're hosting the Macy's Thanksgiving Day Parade in record-low temperatures or posing in sky-high heels for TV Guide Magazine's holiday-themed photo shoot, Savannah Guthrie's and Hoda Kotb's smiles never dim.
Now approaching their first anniversary as Today coanchors, the longtime NBC News colleagues are a generally irrepressible duo exuding good cheer and friendship — and they're striking ratings gold.
After Matt Lauer's exit last November due to alleged sexual improprieties, Today has comfortably remained No. 1 among morning shows in the advertiser-coveted demo of viewers age 25–54, while steadily gaining on ABC's Good Morning America in total viewers. (At press time, it had beaten GMA for four straight weeks.)
We sat down with the pair — after they changed into comfortable flats — to talk about their close relationship, covering tough stories and their best family Christmas memories.
Congratulations on your one-year anniversary! How important is it for you that two women are co-anchoring Today for the first time in the show's 66-year history?
Savannah Guthrie: We both think that is really cool, and we're so glad to be the ones. I feel happy and thrilled because I have a great partner in Hoda. Don't get me wrong, I've always thought this was the best job and I loved working with Matt. He was a great partner, but working with Hoda is a joy. I've never been happier, more satisfied and more at peace.
Hoda Kotb: It is cool that we're the first two women, and sometimes when we're walking down the street and people say, "You go, girl," we think, "Oh, yeah, that." But it's also that we're like two puzzle pieces that work and would have worked if we were a guy and a girl or two guys. The main thing you really need in this job is someone to catch you if you fall.
Guthrie: We know that any given day our job is to wake up with a smile and greet people and share information with them, but we're human. So if one of us was up all night with a kid, the other one knows, "I have to keep an eye out for you today."
Can intimacy of that sort be faked?
Guthrie: You can't fake chemistry. I can tell when co-anchors don't get along. If you have that rapport, it makes people want to spend time with you. And that's what we hope to do — invite viewers to share their mornings with us.
What have been your favorite or most moving stories to cover the past year?
Guthrie: The royal wedding [of Prince Harry and Meghan Markle] was fun.
Kotb: The Winter Olympics, because we got to see America at its very best. But also, our kids weren't with us, so we got to really sit and get to know each other even more.
Guthrie: We've also covered big news stories, including recent hurricanes. That was one of those moments where I was so grateful to have Hoda, who's been a reporter for a long time. She brought this base of knowledge and expertise.
Kotb: We did a split screen when Savannah covered the Pittsburgh synagogue shooting. I remember marveling because she was the perfect journalist — and on the other hand, she was wrapping her arms around the people. That's how you cover the story: You tell exactly what happened, and then you sit and talk to the people affected. I was so moved. Not only do we work well together, but we learn from each other.
How do you switch from coverage of sad events to, say, a cooking segment?
Guthrie: That's the challenge of the job. But frankly, the joy of the job is that our show, like people's lives, is multifaceted. We try to move through those transitions in a way that feels comfortable. I do think people want a variety in the morning.
Kotb: Part of our responsibility is to give you something to pick you up, something hopeful. Who wants to walk out the door thinking, "Oh, the world is a terrible place"?
Guthrie: We report hard news straightforwardly, but we're not callous about it. We try to be careful with our viewers and careful with the way we transmit stories.
When you first met, was it compatibility at first sight?
Guthrie: I would say it was love at first sight. We shared an office. It worked out because we're both really messy. We're Team Messy! I remember walking into the office and around Hoda's space was one shoe and a burrito, and her purse was splayed open full of stuff, with a Coffee-Mate spilling out. I was like, "This is my woman. I get her, she gets me."
What else do you share?
Guthrie: We're similar in age. [Guthrie is 46; Kotb, 54.] We both have little ones. Hoda's daughter, Haley [22 months], and my youngest, Charles [2 years old], are almost the same age. [Guthrie's daughter, Vale, is 4.] We share the joy that we get to do parenthood, because both of us thought we missed our shot.
What's your advice to women who are passing 40 and believe it's too late for them to raise children?
Kotb: I just think when it's your time, it's your time. I remember telling a friend, "Can you believe I'm 52 and I have a newborn?" She said, "You know what that baby is, Hoda? Right on time."
Guthrie: You should never give up, because you never know how life is going to surprise and delight you. There are lots of ways to be a mother. Some people have a pet, some people have nieces and nephews, and some are going to have their babies after everyone else gave up hope.
Another congrats — you just had Barbie dolls created in your likenesses.
Guthrie: I was unreasonably excited that we got our own Barbie dolls. Mine is on my desk. I was going to bring her home because my daughter's really into Barbies, but then I'm like, she'll ruin her. She'll yank her hair out, she'll pull off her leg. I want to enjoy her for just a few weeks, and then I'll let Vale have her.
Kotb: I have to find mine! [Laughs]
Is there anything you disagree about?
Guthrie: Music.
Kotb: I like good music, and she likes the other kind.
Guthrie: No, Hoda and Al [Roker] like some of the worst songs.
Kotb: Doo-wop! "Do wah diddy diddy dum diddy do."
Guthrie: Which is one of the worst songs ever!
Kotb: How is that possible?
For the rest of this interview, pick up TV Guide Magazine's latest issue, on sale now.

Today, Weekdays, 7am, NBC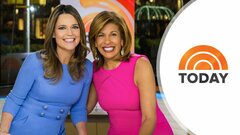 Today
where to stream
Powered by