'Outlander': Brianna & Roger Reunite, and the Frasers Find a Home (RECAP)
[Warning: The below contains MAJOR spoilers for Season 4, Episode 3 of Outlander, "The False Bride."]

It's not often when the Frasers are in the same place, and while they may not be there at the same time, fans were offered a glimpse of their beloved Jamie (Sam Heughan), Claire (Caitriona Balfe), and Brianna (Sophie Skelton) in North Carolina for Outlander's new episode "The False Bride."
For the first time since Season 3's "Freedom and Whiskey," Brianna and Roger (Richard Rankin) returned to the time-bending series for some '70s storytelling. And Jamie and Claire's storyline at River Run picked up where it was left off in the previous episode. All of this and more are being broken down in the recap below, but beware of big spoilers ahead.
See Also
A new face has been introduced.
At the start of the episode, Roger is seen exiting the Reverend Wakefield's (James Fleet) home in 1970s Inverness and welcoming Mrs. Graham's (Tracey Wilkinson) granddaughter Fiona (Iona Claire) and her husband into the house. Observing the way Roger is when describing his time with Brianna, Fiona encourages the Oxford professor to make his intentions clear with his American love.
Arriving in Boston for a visit, Brianna greets Roger at the airport, and although shy at first is happy to be hitting the road for North Carolina's Scottish festival — an event Roger is also set to perform at.
Things are running smoothly for the young couple as they make sure to experience all the festival has to offer, from caricature art to Cèilidh (pronounced kay-lee) dancing, until Roger must perform. Initially playing with other musicians, he shows off his guitar skills and quickly moves on to a solo performance.
As the day turns into evening and things at the festival are dying down, the couple sets off to their separate abodes, but when Brianna shares gifts with Roger — a book about American-Scottish history and a bottle of Mountain Moonshine — they wind up drinking in her cabin. Of course, one thing leads to another, and they almost take their relationship to the next level until Roger breaks away before things go too far.
He claims he wants everything to be perfect for their experience, offering Brianna a box containing a silver bangle with an inscription in French that translates to, "I love you a little, a lot, passionately, not at all." The gift means more in the moment to Roger, though, as he takes the opportunity to propose, but Brianna's reaction is anything but what he wants.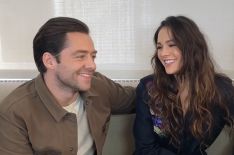 See Also
Are Bree and Roger the next 'Outlander' power couple? Maybe. Are these two actors completely adorable? Definitely.
Having really thought it through, Roger expresses a little too much enthusiasm over the prospect, discussing their future, including children. Brianna on the other hand isn't ready for that kind of commitment, but claims she still wants him. The idea sends Roger into a fury, claiming he won't have her unless they plan to marry — while Brianna points out the changing ideals of the time, since many are no longer saving themselves for marriage.
The fight rages on to the next day when they meet at the festival. Despite wanting to make up, the pair end up on worse terms than before when Roger tells Brianna he'll either have all of her or not at all in response to her questioning beliefs on marriage. Ultimately, it's clear he seems to regret his actions when he turns around at the festival to find she's disappeared.
Meanwhile, Jamie, Claire, and Ian (John Bell) bid River Run and Aunt Jocasta (Maria Doyle Kennedy) farewell, and against her wishes. Jamie allows Ian to remain in America despite his initial apprehension, and, determined to make an honest and decent life for themselves, the trio set off for a new destination with John Quincy Myers (Kyle Rees). Eventually, Ian heads off for trading deals with Myers while Claire and Jamie maintain their path.
Discussing their plans, Jamie asks if Claire prefers a fresh start in someplace familiar like Boston, but she remarks on how it's not a new idea and rather North Carolina is a true fresh start.
Along their travels they talk about everything, including Brianna's decision-making skills and her connection with Frank (Tobias Menzies). Eventually, they know it's time to set up camp as the threat of rain and lightening is evident in the sky.
Overly confident Claire rides off after the couple's mule runs away, but a bolt of lightning sends her horse retreating, and she is knocked out by the big fall. Even with her futile efforts to find Jamie, Claire digs herself a deeper hole by wandering in the woods. Resigning herself for the evening, Claire settles in under a tree shelter, but she's not alone — a skull marred by a brutal injury lays within in the hole as well.
When the lightning strikes throughout the night, Claire sees a torch advancing towards her, but when the flashes cease there is no torch or human to be seen. The individual continues to eerily advance, and Claire soon realizes it's a Native American man, but when he turns to leave, the injury apparent on the back of his skull suggests he's not of the Earthly realm.
Later, in the daylight, Claire follows footprints leading away from her shelter — her shoes now missing — and discovers Jamie, who has been waiting for her by the creek after seeing her shoes. Claire shares what she saw with Jamie and suggests that the man was a ghost that led her back to Jamie with the footprints. Upon further investigation Claire learns the skull has silver fillings in its teeth — something impossible for the time which means he must have been like Claire, a time traveler.
Taking the fortune of their situation into consideration, the Frasers make a decision on what land they'll call home. Flourishing with strawberry plants, the couple finds a stretch of land which they agree to call Fraser's Ridge.
See Also
Richard Rankin and Sophie Skelton also talk Roger and Bree's long-distance relationship.
Here are a few of the episode's moments that stick with viewers long after the credits roll, as well as things to keep in mind moving forward:
Claire's innocent dig at Jamie claiming she'll remain in America as long as they don't live in a brothel is a funny remark clearly inspired by Season 3's reveal about Jamie's work in the big reunion episode.
We hope Brianna and Roger can work things out, and based on the preview for next week they do get in touch with one another. But will that be enough to reignite things between them?
Fans may be getting their first look at the Native Americans they've heard so much about this season. Will it be a friendly or hostile gathering?
Outlander, Sundays, 8/7c, Starz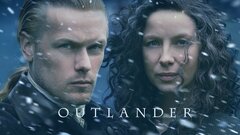 Powered by