'Outlander': Jamie's Challenge, Roger's Dilemma & Brianna's Leap of Faith in 'Common Ground' (RECAP)
[Warning: The below contains MAJOR spoilers for Season 4, Episode 4 of Outlander, "Common Ground."]
It's never a dull moment for Outlander's Frasers, and in this week's "Common Ground," they were in for a big adventure once more.
Jumping between two different timelines, viewers were thrown deeper into the story of Jamie (Sam Heughan) and Claire's (Caitriona Balfe) American tale, while also witnessing the fallout from Brianna (Sophie Skelton) and Roger's (Richard Rankin) North Carolina jaunt.
See Also
Jamie's godfather might have made his way over to the American colonies.
Picking up where last week's installment concluded, we find Jamie accepting Governor Tryon's (Tim Downie) offer to settle in land in the North Carolina mountains. Upon signing the deal, Jamie promises to build up the acres with inhabitants and homes. Before departing for their new property, Claire and Jamie make sure that expectant parents Marsali (Lauren Lyle) and Fergus (Cesar Domboy) are comfortable.
Setting off with nephew Ian (John Bell), the trio arrive at the spot they're now referring to as Fraser's Ridge. To stake their claim, they mark the territory with a physical border of rope and sticks, but they're interrupted by some less-than-happy natives. Luckily, Jamie's peaceful stance creates a temporary fix as the band retreats without trouble.
As their project progresses, another visit from their native neighbors the Cherokees turns concerning when they ride through the ridge with the Frasers' border sticks in hand. The natives throw the sticks onto the ground surrounding Jamie, Claire and Ian, and it seems the settlers have a serious problem on their hands.
Later that night, Ian's dog Rollo senses trouble outside of the family's makeshift shelter – a short-term solution as they construct their own home. Venturing into the night, a bear appears as their horse exhibits the telltale signs of an attack. The experience forces Jamie to seek John Quincy Myers' (Kyle Rees) advice in an effort to join forces with the natives and work together to eliminate the threat.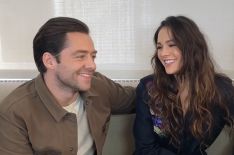 See Also
Are Bree and Roger the next 'Outlander' power couple? Maybe. Are these two actors completely adorable? Definitely.
After Myers agrees to pass on some tobacco to the Cherokee on Jamie's behalf in a gesture of goodwill, the family is revisited by the bear again. In a twist no one saw coming, the "bear" returns and has harmed Myers. So while Claire and Ian tend to his wounds, Jamie goes into hero mode and seeks out the threat for himself. For fans of the book series, it's a pivotal scene, but unlike the source material, he doesn't fight a real bear — instead, it's a rogue Cherokee dressed as a bear.
While tussling with the man, Jamie makes a quick decision to use one of the property marker spikes for his winning weapon. Later, he enters the Cherokee land towing the body of his assailant and is greeted with kindness by the village's inhabitants. They explain to Jamie that the dangerous man had been exiled from their tribe for essentially raping his wife. This left the man psychologically unstable, which explains his bear get-up.
After finding "common ground," Jamie, Claire and Ian are more than happy to invite the chief and his family for some good company and conversation. One woman takes a moment to introduce the tribe's healer, who speaks of a vision she'd had of Claire prior to their meeting, which foresaw good medicine in her future.
Finally on good terms with the natives, Jamie and Claire's dream home is really coming together — but not all is well just yet, as they're supposedly still in danger.
Jumping forward in time by nearly a year since their "breakup," Roger and Brianna get back in touch when he happens across some information about her parents in the book she gave him in North Carolina. Ringing her up in Boston, Roger reveals to Brianna that her parents did find one another and ended up purchasing the land known as Fraser's Ridge.
Ecstatic to learn about her parent's reunion, Brianna's demeanor towards Roger is completely different from the last time she saw him. Could a reconciliation be on the way? Before that's possible, a discussion with Fiona (Iona Claire) brings up some surprising revelations as she shares her knowledge of Claire and Jamie's tale. While Roger tries to recover, Fiona further shares that she found information about Jamie and Claire's demise in the 1770s, due in part to a fire.
See Also
Sam Heughan, Caitriona Balfe, and more also tease changes from the book and Jamie 'making a deal with the devil.'
Roger then wrestles with the prospect of sharing this information with Brianna – should he tell her about Jamie and Claire's untimely passing so she can decide whether or not to intervene? Ultimately,Roger's ethical side wins out and he rings Brianna back. Instead, her roommate answers and tells of Brianna's sudden trip to… Scotland.
It seems like she might be taking a journey to the past, even without Roger's latest Jamie and Claire news. Time will tell!
Additional Notes:
What spurred Brianna to seek out her parents? According to her roommate, Brianna's been in "Scotland" for two weeks to see her "mother." It's fairly apparent from that statement and next week's preview that she's on a one-way trip through the stones at Craigh Na Dun. Was she waiting to learn of her parents' whereabouts before following in her mother's footsteps? Or is this a recent decision? Knowing Roger, he'll do whatever it takes to catch up to her after that two-week head start.
The introduction of the Native Americans is a sign of things to come. There are definite similarities to the highlanders, and it will be fun to see the Frasers' bond with them grow. Then, there's the case of Claire – what did the native woman's vision mean? Is it a hint about Brianna's impending arrival?
Will Jamie and Claire's decision to settle in this land backfire? Not much beyond the purchase was discussed. Plus, Claire's initial reaction to the offer at the beginning of the season now seems small in comparison to the possible other threats the two are facing.
Outlander, Sundays, 8/7c, Starz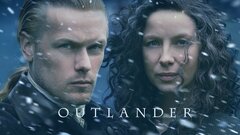 Powered by