'Outlander' Season 4: Sophie Skelton & Richard Rankin Tease Singing, Dancing & Danger! (VIDEO)
Starz's time-traveling drama Outlander is back this weekend, November 4, and TV Insider sat down with Sophie Skelton and Richard Rankin who play Power Couple No. 2 on the call sheet, Bree and Roger.
This duo radiates chemistry both on and off the screen and shared some laughs—even while discussing some of the more dire moments their characters face. As Rankin notes, "If you can come out of the other end of what Roger and Brianna go through, I'm pretty sure you can call yourself a power couple."
See Also
Richard Rankin and Sophie Skelton also talk Roger and Bree's long-distance relationship.
He's definitely not wrong. At the beginning of Season 4 (we won't see their characters until around Episode 3), Bree and Roger are making an attempt at long-distance love, but they're maybe not always on the same page. Their relatively new romance is a stark contrast to the deep, decades-long love between Jamie (Sam Heughan) and Claire (Caitriona Balfe) that viewers have seen develop over the past three seasons, but it's an exciting ride for the couple's daughter and her Scottish beau.
Some of the brighter moments on their ride include Ceilidh (pronounced kay-lee) dancing, a traditional Scottish boogie that apparently involves a lot of spinning. It's a dance that Rankin learned from an early age in school, and Skelton only just learned. Rankin also spoke about his upcoming solo performance—and serenading everyone on set while practicing. Talk about a triple threat!
See Also
Sam Heughan, Caitriona Balfe, and more also tease changes from the book and Jamie 'making a deal with the devil.'
And of course, there will be danger. "I would say danger is an understatement," says Skelton. Later adding, "any trauma a person can go through, [Bree] goes through." Yikes!
Nevertheless, we can't wait to see what's next for these two. Check out the full interview below.
Outlander, Season 4 Premiere, Sunday, November 4, 8/7c, Starz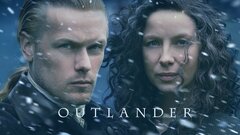 Powered by