'Kominsky Method,' 'Narcos: Mexico' and 'Dogs' Stories on Netflix, John Leguizamo on Broadway, a 'Hawaii' Family Affair
A critical checklist of notable Friday TV:
The Kominsky Method (streaming on Netflix): The spirit of Neil Simon lives on in Chuck Lorre's deeply felt laugh-through-your-tears comedy. Oscar winners Michael Douglas and Alan Arkin are in great form in an odd-couple bromance about a legendary acting teacher and Hollywood agent subjected to the indignities of age, handled with wit and sardonic grace.
Narcos: Mexico (streaming on Netflix): The south-of-the-border drug saga shifts focus from the Columbian cartels to intrigue in Mexico during the early days of the war on drugs in the 1980s. Narcos: Mexico tracks the rise of cunning kingpin Miguel Angel Félix Gallardo (Diego Luna), who forges a coalition of traffickers to control the marijuana (and later cocaine) market. On his trail, but thwarted by corrupt local cops and government officials, is Mexican-born DEA agent Enrique "Kiki" Camarena (a likably combustible Michael Peña).
Dogs (streaing on Netflix): And you thought crying at Old Yeller was something. Wait till you get a load of this moving six-part documentary series depicting human-canine love stories, from rescue animals in New York City to the reunion of a Syrian refugee with his Man's Best Friend, Zeus, a Siberian Husky.
More streaming options in a ridiculously overstuffed weekend include: Hulu's Bisexual, a droll six-part comedy, stars hyphenate director/co-writer Desiree Akhavan as a bohemian sexual adventurer who leaves her lesbian lover/business partner to explore new options of sexual orientation… Netflix debuts the Coen Brothers' quirky Western anthology movie The Ballad of Buster Scruggs after an exclusive brief run in theaters. Tim Blake Nelson is a singing but deadly cowboy, James Franco a bank robber, Liam Neeson a traveling showman, in vignettes that also star Tyne Daly, Tom Waits, Zoe Kazan and more… Amazon Prime Video celebrates 20 years of Coldplay in the documentary film A Head Full of Dreams… And because no list this time of year would be complete without a Christmas movie, Netflix complies with The Princess Switch, starring Vanessa Hudgens in a dual role as Margaret, a duchess, and lookalike Chicago "commoner" Stacy, who magically switch places. Romance blooms when Margaret falls for Stacy's co-worker and Stacy swoons for Margaret's fiancé, a prince (Nashville's Sam Palladio).
John Leguizamo's Road to Broadway (9/8c, PBS, check local listings at pbs.org): Great Performances offers a rare look inside the creative process as humorist John Leguizamo prepares his latest and most ambitious work for Broadway: Latin History for Morons, which condenses 3,000 years of Latino history into a brisk 90-minute show. We follow the actor-auteur through his provocative research and refining, with interviews including Rita Moreno, Mark Ruffalo, Ruben Blades and the Public Theatre's artistic director Oskar Eustis.
Hawaii Five-0 (9/8c, CBS): Series star Chi McBride writes an episode that hits close to home for his character of Lou Grover. Mega guest stars Louis Gossett Jr. and Gladys Knight appear as his parents, who visit for Thanksgiving and bring along Grover's brother (Clifton Powell) for a side dish of sibling rivalry.
Inside Friday TV: Expect more than a few Home Improvement in-jokes on Fox's Last Man Standing (8/7c) when Mike (Tim Allen) gives daughter Mandy (Molly McCook) pointers on her new rebound career in real estate… Taking a road trip with the wrong person on the CW's Crazy Ex-Girlfriend (9/8c) inspires one of the season's best numbers yet, a trippy homage to the Beach Boys and the evolution of '60s music… Amy Robach reports the story of Cameron "Cam" Underwood, a young man who received face-transplant surgery after a failed suicide attempt left him disfigured, on ABC's 20/20 (10/9c). The hour depicts Cam's emotional first meeting with the mother of his face donor.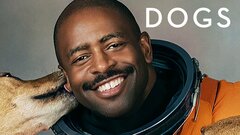 Dogs
where to stream