'Narcos: Mexico': Netflix Spinoff Tells 'One of the Uglier Stories' in Drug Trafficking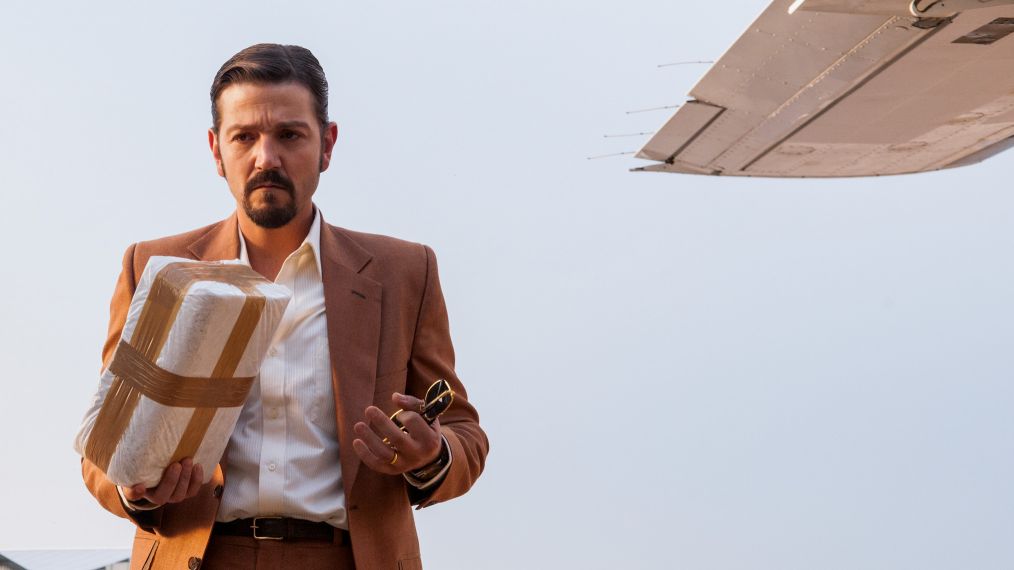 Narcos: Mexico
Series Premiere Friday, November 16
After three seasons focusing on the Colombian drug trade, Narcos turns its lens to Mexico, where, in 1985, DEA agent Enrique "Kiki" Camarena (Michael Peña) took on infamous drug lord Miguel Ángel Félix Gallardo (Diego Luna) and his Guadalajara Cartel — and tragically lost. It was what many consider the start of America's decades-long (and still ongoing) war on drugs. As with all wars, its beginning is complicated and multifaceted.
"Two types of audiences watch Narcos," says executive producer Eric Newman. "The one that can't wait for the bad guy to go down, and others who believe there are no real bad guys." Which isn't to say that Gallardo is good — his history of torture and murder dispel any notion of that — but Newman is interested in presenting all the facts in Narcos: Mexico, which spends 10 episodes exploring what brought both men to one fateful 1985 day in Mexico.
See Also
The 'Narcos' spinoff series premieres in November on Netflix.
"We're conscious of critics who say we glorify these people," he adds. "It's never been true and it's not in this case. We humanize these characters because monsters don't just spring from the womb."
But steel yourself: This tale is rough, and, as a narrator explains in the first few seconds of the season, it doesn't have a happy ending. "We felt we had an obligation to tell one of the uglier stories in narco trafficking," Newman says. "You can't tell the history of the drug war without telling the story of Kiki Camarena, and it's a brutal one."
See Also
If thrills are your thing, try streaming these shows.
Narcos
Seasons 1–3 Available Now
This is one addiction we fully support: In its first three seasons, Narcos has hooked viewers on its fast-paced storytelling and richly developed characters based on real-life figures from both sides of the drug war. Seasons 1 and 2 focus on the rise and inevitable fall of Colombian drug kingpin Pablo Escobar (Golden Globe nominee Wagner Moura) and his Medellin Cartel in the 1980s.
The drug traffickers are relentlessly pursued by DEA agents like Javier Peña (Pedro Pascal), who, in Season 3, diverts his attention to a new challenge: taking down the Cali Cartel, which rose to power in Medellin's wake. Of course, history is rarely black-and-white, and neither is the storytelling throughout all three riveting seasons.