'The Wine Show': Matthew Rhys & More on What to Serve This Holiday Season
It's officially the holiday season, so you know what that means: lots of good meals ahead!
TV Insider got the inside scoop from a few of the stars of Ovation's The Wine Show on exactly which wines you should be serving at all of those family and friend gatherings.
The Americans star and recurring host (alongside The Crown's Matthew Goode and Hap & Leonard's James Purefoy) Matthew Rhys, along with wine experts Joe Fattorini and Amelia Singer, have recommendations at every price point. Read on for their recommendations!
Matthew Rhys (Host)

"Having fended off most sweet wines for the majority of the year, Yuletide is all for the winter warmer, and at times, a sweet wine. I'm a slight whore for a Hallmark, Dickensian Christmas card. Crisp walks with hip flasks, carols and peace on earth to all should be done with sloe gin, port and the occasional curveball like Kümmel. Cassis should be splashed around with abandon.
"All should come faithful for sloe gin on Christmas Eve — slurped surreptitiously before, during and after midnight carols. Christmas morning, cassis and Champagne for good will. If it's Champagne, then Jacquesson Cuvee 740 Non-Vintage Brut ($70.00). If not Champagne, then Domaine Chandon Brut ($18.00) from California or Nino Franco Prosecco Rustico ($16.00) does it for me.
"Merry gentlemen should take a rest before a brisk walk post-lunch. Pre-tea should be made with a sly hip of Kümmel. Like bikes and clogs, the Dutch do many things well, not least this beauty. It's all cumin, caraway and fennel to set you up for turkey sandwiches in front of James Bond. Wolfschmidt Kümmel is the classic. But search out Combier Dopelt Kümmel Extra Liqueur if you can.
"Boxing Day at 11am should always be a slice of Christmas cake, a strong black coffee and a beautiful Tawny. Not an owl! Instead a snug half-bottle of Graham's 20 year old Tawny Port ($50.00). Joe [Fattorini] once told me to chill it a bit. So I do."
Joe Fattorini (Wine Expert)
Planning your Thanksgiving and Holiday wine? Just ask the question, "What would Steve Martin do?" Or Chevy Chase. Or John Candy. Because you want the friends and family vibe or a heart-warming '80s movie. Not the fancy and fashionable: Wines that leave a warm, cosy glow.
"This doesn't mean your wines should be boring. Last year I introduced Matthew Rhys to Sicilian reds. They are so hot right now. He's never looked back. We had 2017 SP68 Rosso IGT Terre Siciliane over lunch ($30.00) which is bright and fresh and has a lively all-round appeal that left everyone smiling. Especially "Rhysy."
"Don't get too hung up on food and wine matching, especially with turkey. Turkey is what winemakers serve you as a "blank canvas" to make their wine seem more expressive. Try a generous, lush, velveteen red that don't overwhelm the turkey but can cope with trimmings. Like 2015 Tablas Creek, Patelin de Tablas from Paso Robles ($19.95), all plush fruit with herbal edges.
"We spent hours debating the merits of Chardonnay making The Wine Show. It's become a thing to say, "Oh, I'm SO OVER Chardonnay." But it's a great grape. And it makes great wines. Just try it without all the waxy oak. Like A to Z Wineworks Chardonnay from Oregon ($12.99) or 2017 Heron Hill Classic Chardonnay Unoaked from the Finger Lakes ($15.99). They're both packed with tropical fruit and great with shrimp and salads.
"If you do want to be a little more adventurous, then head east. I've seen the future of white wine. And it's Hungarian Dry Furmint. Wines like 2016 Beres Tokaj Estate Dry Furmint ($16.99) or 2015 Royal Tokaji Dry Furmint ($17.00) or 2015 Oremus Mandolas Dry Furmint ($25.00). They have the freshness of Sauvignon with the food-loving weight of Chardonnay. I've yet to meet anyone who didn't love it at a party. Plus you look like a great wine pioneer for choosing it.
"It's a time of year to celebrate too. You may have heard Elmer Wheeler's famous line, "Don't sell the steak, sell the sizzle." Less famous (but better) is his line "The good waiter must sell the bubbles – not the Champagne." There are so many great non-Champagne bubbles out there. Graham Beck Blanc de Brut from South Africa was featured in The Wine Show and is around $24.00 of fruity fun, with real class. For home-grown fizz, look out for Caraccioli Cellars 2012 Brut Cuvee ($52.00) and Sparkling Pointe 2015 Topaz Imperial ($33.00) from Long Island, which both won awards at the Champagne and Sparkling Wine World Championships (yes, that's a real thing).
"Finally, keep a bottle of Tawny Port on your shelf. Something like Quinta do Vallado 10 year old ($18.00) (or 20 year old if you want to treat yourself – $30.00). Nutty, raisiny, sweet, luscious and warming. You can just dip in at the end of the day for a luxurious, silky treat. It's magical wine. And tells you the holidays really are here."
Amelia Singer (Wine Expert)
For me holidays are all about food, family, films and lots of wine! Here are some of my favorite movie pairings to suit the various moods and family dynamics during the festive season!
Thanksgiving
Movie: Home for the Holidays
Mood: Eccentric aunts, rebellious teens, doomed love affairs and a series of dysfunctional familial mishaps – I am sure many of us can relate to this over the holiday season!
Food: A rogue stuffing recipe with lots of nuts for all the nuttiness which holiday entails! Rice stuffing with plenty of pecans, bacon and cranberries seems to satisfy all the palates in my crazy family!
Wine: You want a fairly versatile wine to go with the delicacy of the turkey, but also one that complements all of the condiments — stuffing, cranberry sauce, vegetables, strawberry marshmallows on the sweet potato, etc. Anything light and bright like a Pinot Noir or Gamay would work fantastically, but I am partial for going a bit wacky and treating my loved ones to a rather different grape – the Valdiguie!
Jolie Laide's Rose ($30) made from Valdiguie never fails to impress!
Movie: Charlie Brown's Thanksgiving
Mood: All-time American favorite.
Food: Pumpkin Pie. You can't get much more 'murica than that!
Wine: A 20 year old Tawny Port. This is a combination of two classics! The pie needs something with more sweetness but the bitter orange rind, spice, toffee and roasted nuttiness of the port will elevate this squash based dessert.
Hanukkah

Movie: A Rugrats Chanukah
Mood: Just adorable, feel good vibes — a perfect digestion aid after this eight-day holiday of feasting.
Food: Traditional family fun and goodness: sweet potato latkes with apple sauce.
Wine: Something bubbly, light, low in alcohol and super fruity to complement the sauce. Moscato d'Asti is a great way to begin or end a meal. Full of grape-y, white peach, jasmine joy – you can't really drink a glass without smiling.
Saracco Moscato d'Asti ($14.99) is the perfect perfumed, honey suckled, creamy crowd pleaser.
Movie: The Hebrew Hammer
Mood: Think wacky Jewish Austin Powers vibe. As the tagline goes: Part Man. Part Street. 100% Kosher.
Food: Beef brisket with a twist: smoked brisket grilled cheese sandwich. It is simple, a bit out there, but definitely a true guilty pleasure.
Wine: To stand up to this rich, creamy, meaty concoction; try a concentrated, full bodied white which has enough acidity to cut through the tender brisket and mayonnaise.
La Crema Chardonnay ($15.00) would be a natural go to for me. Fleshy, full of baked peach fruit, a slight nutty toastiness but there is still plenty of acidity to stand up to this sandwich of riches.
Christmas
Movie: Holiday Inn
Mood: With the singing, dancing and all-star cast, along with the famous White Christmas scene — this film has something for everybody. It really is Christmas in a film with all of the trimmings!
Food: I am not sure about your family, but in mine, Christmas dinner is a five hour affair — complete with a seafood salad (my mother's favorite), at least three different stuffings and a cheese course. On top of the dessert!
Wine: It is important to have a wine that can hold its own. It must have the personality for steak, but also has to complement nut crusted vegan offerings and the most ambitious of cheese platters. It also can't be too big if you want to enjoy it over five hours. Gruner Veltliner is always the grape which my family relies on to stand up to this intimidating feasting prospect.
If you want to impress then Franz Hirzberger's Honivogl Gruner ($80) is immense, but Malat has an incredible Reserve Gruner from Kremstal for $45. Think fleshy ripe yellow plum, pear and a succulent mouthfeel which is all tied together with white pepper. Yum!
Movie: Bad Santa
Mood: This is a dark Christmas comedy – the perfect tonic when the holiday frenzy threatens our inner Scrooge!
Food: Something dark, bitter and intense. Perhaps an indulgent chocolate dessert which gives pleasure — but also a bit of pain — when it is consumed after a full-on Christmas dinner!
Wine: Pairing wine with chocolate is very tricky. I normally say with anything sweet you should always aim for something that is as sweet if not sweeter. However, when you have dark chocolate (at least 70 percent cocoa), you can then play with bitter flavors. Chinato is a vermouth-like fortified wine made with spices and herbs, including quinine, and bittersweet flavors. The spicy, inky dark fruit flavors of the Chinato are fantastic with the rich, indulgent mouthfeel of dark chocolate. It also double acts as the perfect digestif when going through a food coma in front of the television.
Chinato can be found in any well stocked Italian store. My recent favorite is a Barolo Chinato from impressive Piedmont producer GD Vajra, which is $70, but there are plenty cheaper than that as it is not a very well appreciated drink in the States. Like the Grinch, sometimes something bitter and unappreciated should be embraced at Christmas time! Cheers!
The Wine Show, Thursdays, 10/9c, Ovation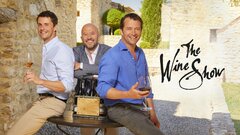 Powered by