Netflix's Full 2018 Holiday Lineup: 'Sabrina' Special, Festive Rom-Coms, 'Nailed It!' Season & More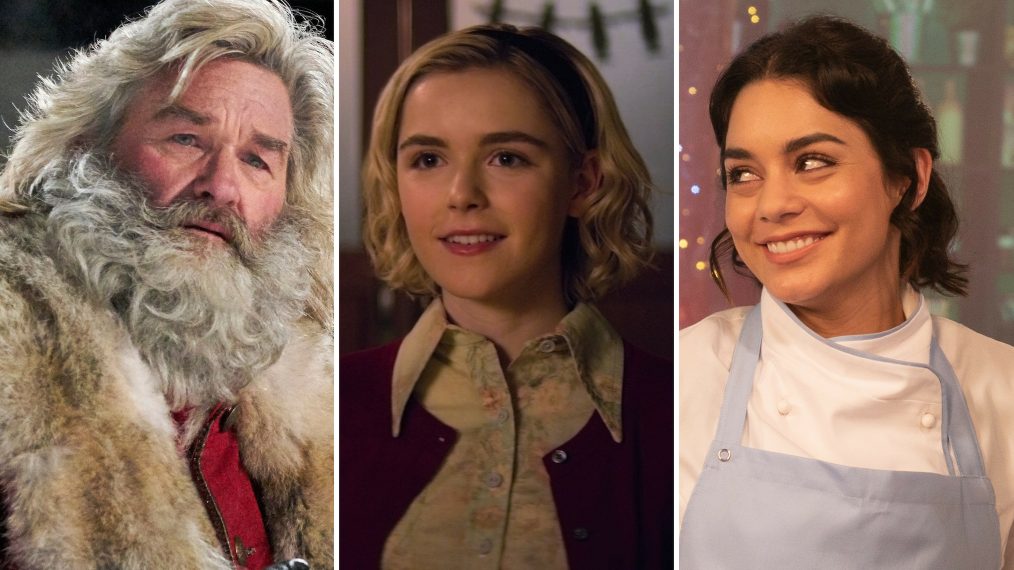 "It's the most wonderful time of the year" for both lovers of the holiday season and Netflix enthusiasts, who can be found under cozy blankets during the cold winter months.
And it looks like 2018 will be the best year yet for festive offerings from the streaming service, as many new original films, specials, and holiday-themed seasons of series will drop on the platform throughout the months of November and December.
Below, we're breaking down Netflix's holiday lineup, including what's been released so far this year and the great titles to come.
The Holiday Calendar
Available Now
Starring Kat Graham, Quincy Brown, Ethan Peck, and Ron Cephas Jones, this holiday film, released November 2, involves a "magical" advent calendar. What happens when Abby (Graham) begins to think that the gifts inside predict the future? You'll have to see for yourself in this decidedly sweet rom-com.
The Princess Switch
Premieres Friday, November 16
Starring two-times the Vanessa Hudgens, The Princess Switch is the good old-fashioned tale of two girls who look exactly alike — one's a princess, the other a common baker from Chicago. When they cross paths, the princess suggests a little switcheroo so they can experience what the other lives like for a few days. What could go wrong, right? Sam Palladino and Nick Sagar also star in the Christmastime feature.
The Christmas Chronicles
Premieres Thursday, November 22

Kurt Russell takes on the iconic role of Santa Claus in this family film that plays out like a comedy with heart. When a mom leaves her kids home alone on Christmas Eve with nothing but a camera and curiosity, the combination leads to one wacky middle-of-the-night adventure with Santa himself.
A Christmas Prince: The Royal Wedding
Premieres Friday, November 30
A sequel to last year's A Christmas Prince, Amber (Rose McIver) and Prince Richard (Ben Lamb) return to share the story of their royal wedding. There's no new trailer at the moment, but above is a bit that was released close to the Prince Harry and Meghan Markle's wedding that served as an announcement for the sequel.
The Great British Baking Show Holiday Special
Premieres Friday, November 30
Get ready for some sweet, holiday-themed confections in this special installment of the fan favorite competition show, The Great British Baking Show. While no teasers or images of the actual special have been released, we're sure hungry fans will devour the delightful treat.
Nailed It! Holiday!
Premieres Friday, December 7
The baking competition show that pits unskilled contestants against each other is quite honestly the holiday gift fans didn't know they needed. In December, Netflix will release a special holiday season of the series and in the teaser, judges Nicole Byers and Jacques Torres stand around false fireplace and talk about it.
Neo Yokio: Pink Christmas
Premieres Friday, December 7
It's been over a year since fans have seen the characters of Neo Yokio and Netflix is offering them a wonderful holiday gift with a special episode. So what's everyone's favorite anime demon slayer Kaz Kaan (Jaden Smith) up to? We'll have to tune in to find out.
Super Monsters and the Wish Star
Premieres Friday, December 7
The kids program about a group of the children of the world's most famous monsters is jumping on the holiday bandwagon with a new special after its recent Season 2 return. A fun time for the whole family, Super Monsters and the Wish Star will take viewers on a whole new adventure.
Fuller House
Premieres Friday, December 14
Holy chalupas! 🌮😱 #FullerHouse Season 4 is coming to @Netflix December 14th. pic.twitter.com/BQrnxzLTvv

— Do It Gobbler Style 🦃 (@fullerhouse) October 30, 2018
So maybe its not fully geared towards the holidays, but fan favorite series Fuller House is officially returning for Season 4 on December 14, which makes it the perfect winter break binge. Cozy up with the Tanners for some family fun — the kind of thing everyone needs around this time of year.
Chilling Adventures of Sabrina: A Midwinter's Tale
Premieres Friday, December 14
Walking in a wicked wonderland. A Midwinter's Tale arrives December 14th. pic.twitter.com/JXYqtU9G2q

— Chilling Adventures of Sabrina (@sabrinanetflix) November 12, 2018
In an unusual and welcome turn of events, Netflix is gifting viewers with a holiday special for its new hit series, Chilling Adventures of Sabrina. Supposedly a standalone episode, not much has been revealed about the plot. Still, based on the tease above, we should expect to see many of our favorite characters return.