Ask Matt: More Reboot Dreams, Actors Doing Double Duty, 'This Is Us' and More
Welcome back to the Q&A with TV critic (also known to some TV fans as their "TV therapist") Matt Roush, who'll try to address whatever you love, loathe, are confused or frustrated or thrilled by in today's vast TV landscape. One caution: This is a spoiler-free zone, so we won't be addressing upcoming storylines here unless it's already common knowledge. Please send your questions and comments to [email protected] (or use the form at the end of the column) and follow me on Twitter. Look for Ask Matt columns on most Tuesdays and Fridays.
It's Creepy and Kooky!
Question: I remember the classic series The Addams Family from the '60s and how wonderful and unique that show was for its time, but it unfortunately only lasted two seasons, most likely because it was too ahead of its time with the macabre humor and "weirdness." Which makes me think if they aired that show today it would thrive much better, since there are plenty of other series that we all know are celebrated for their subversiveness and "weirdness." I'm against reboots as a rule, though I think The Addams Family would be the exception and could work in the modern time, though I worry that the overall clean and witty humor would be lost in today's environment of vulgar and edgy humor everywhere. What do you think? — Unsigned
Matt Roush: You rang? (That's a Lurch reference for the uninitiated.) I also have a built-in skepticism reflex when it comes to rebooting or remaking treasured shows from my TV youth—I'm in the camp that wishes they'd left Lost in Space alone (though now that the Robinsons actually are finally lost in space for Season 2, maybe it will improve). That said (while twitching my nose in hopes that ABC thinks revisiting Bewitched), you're speaking my language with this Addams Family love. I had one of those Thing coin banks as a kid, and couldn't get enough of this show during its short run. It has proved a very durable franchise, both at the movies in the 1990s and even as a Broadway musical in more recent times, so this high concept probably could fly again, especially if cast properly and given appropriate production values. (They'll never match the creaky, shabby charm of the black-and-white original, and probably shouldn't try.) I'm not saying I'm dying for this to happen—I'm putting most of my hopes in Jordan Peele's new version of The Twilight Zone for CBS All Access—but I expect I'd greet it with as open a mind as possible.
A Mystery Lover's Lament
Question: I'm still waiting for a reboot of one of my favorites: Unsolved Mysteries and its haunting theme song. Since it last went off the air there have been many more mysteries to explore. Has any network considered this? — Michele M
Matt Roush: This is one of those durable titles in the docu-series space that you often hear floated around as ripe for revival. (And sometimes they come to pass, like History's recent reboot of In Search Of … with Zachary Quinto taking over the Leonard Nimoy hosting role.) At the moment, I'm not aware of any new episodes of Unsolved Mysteries on the horizon—the original series is streaming on Hulu—but I wouldn't be at all surprised if it eventually resurfaces as the mania for familiar titles continues. (Seriously, though, what is Investigation Discovery waiting for?)
Actors Doing Double Duty
Question: Why do so many actors play roles in two hit shows? For instance, why is the character of Toby in This Is Us (Chris Sullivan) also in Camping? Why is the girlfriend of Johnny Galecki in The Conners (Juliette Lewis) also in Camping? To top it off, the daughter of Darlene in The Conners is also in Shameless. There are so many excellent actors out there, so why should these other actors be able to do double duty? — Michael in NYC
Matt Roush: My initial response to this is: Why shouldn't they be? I enjoy watching actors, especially character actors, display their range on different series—although in the case of Juliette Lewis, she was basically playing the same annoying stereotype on both series. In some of these cases, we're talking about actors on shows with a limited number of episodes, giving them an opportunity to play in someone else's sandbox during a hiatus. (Though, to be honest, why anyone is in or even watching Camping is beyond me.)
And funny you should ask this, because the current issue of TV Guide Magazine features a chart of actors in multiple roles: Cody Fern (American Horror Story: Apocalypse and House of Cards), Eric McCormack (Will & Grace and Travelers), Sara Gilbert (Conners and The Talk), Lisa Edelstein (The Good Doctor and The Kominsky Method) and Timothy Hutton (The Haunting of Hill House and How to Get Away With Murder). I'd add Nancy Travis, who's back with Tim Allen on Last Man Standing and does some of her best work in years as Michael Douglas's love interest in Netflix's Kominsky. (She also appeared in the most recent season of Audience Network's Mr. Mercedes; Travis was one busy lady during Last Man's year of limbo.)
What About the Kids?
Question: Considering that Jack and Miguel were best friends in the backstory of This Is Us, one would have to assume that their children played together. Will we ever take a glimpse into the lives of Miguel's children? — La Toya
Matt Roush: I imagine we'll eventually meet Miguel's other family, as he remains one of the most unexplored aspects of the extended Pearson family tree. In a 2017 interview the actor (Jon Huertas) gave to The Hollywood Reporter, he noted that his and ex-wife Shelly's kids are about five years older than the "Big Three" Pearsons, but couldn't comment whether the kids even knew each other or were friends in their younger and/or adult years. Miguel was Jack's best man, after all, so you have to think their families interacted before the divorce, Miguel's move to Houston, Jack's death, etc.
Bouquets for Durrells
Question: As always, I want to thank you for your insightful columns. My question concerns The Durrells in Corfu on PBS. I'm finding this show about this quirky family to be a delight. The cast is sparkling, headed by the excellent Keeley Hawes. Also, on occasion we get to see Leslie Caron, still a terrific actress. The storylines, characters and exotic location all draw me to this show. How do you feel about this show and why you would recommend viewing? Also, how popular is it in England? I end by saying, I still miss the much-too-soon canceled Underground. However, at least I can enjoy The Durrells in Corfu. — Allen
Matt Roush: Always happy to spread some goodwill toward this charming sleeper. I'm saving the third season (which concludes Nov. 18) for one of those winter nights when I'm seeking an escape, but all of your recommendations echo what I enjoy about the series: the exotic, beguiling locale, the terrific continental cast, and the all-around tone of smart, light entertainment—which sometimes we just need as a respite. I'm happy to note that a fourth season has been commissioned, so it's doing at least well enough to keep going in the U.K., and I assume we'll get those episodes sometime in 2019.
Murphy Who?
Question: Do you think the Murphy Brown revival is being hurt by the fact that it doesn't have a lot of name recognition to the under-30s? I don't think I've seen the originals in syndication or reruns recently. — Amy
Matt Roush: It's possible that the original series being out-of-sight, out-of-mind for so long may have contributed to the revival's relatively soft ratings. (The series wasn't particularly successful in syndication, and only one season was released on DVD—some cite music rights, but another factor was that the show was so much of its time it was almost instantly dated.) Mostly, though, the consensus is that while Murphy's return is certainly well timed in an age when the media is being demonized—this week's outrageous showdown at the post-election White House press conference almost felt like an outtake from a Murphy Brown episode—there's a sense of fatigue as well when it comes to this sort of politically charged material. (This week's episode, with Bette Midler, was much lighter, but also felt like something out of the 1990s.)
And Finally …
Question: When did Ice T leave Law & Order: SVU? — Katie
Matt Roush: He didn't. And as far as I can tell, he's not planning to—at least not until after the show beats the mothership's longevity record a year from now. If then. You may have watched an episode or maybe a few where Fin was absent, which happens on ensemble dramas, but as of last week's episode, he was still very much a part of the team.
That's all for now. Thanks as always for reading, and remember that I can't do this without your participation, so please keep sending questions and comments about TV to [email protected] or shoot me a line on Twitter (@TVGMMattRoush), and you can also submit questions via the handy form below. Please include a first name with your question.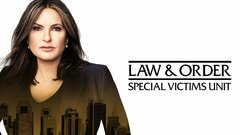 Powered by
Powered by