Who Said It: Ice-T or Fin Tutuola on 'Law & Order: SVU'? (QUIZ)
In the world of successful career leaps, Ice-T is something of a legend. From rapping on his own record label to playing Detective Odafin "Fin" Tutuola on Law and Order: SVU, few people can do it all like our boy Ice can. Just ask comedian John Mulaney.
You would think that there would be a world of difference between the words of the artist behind the song "Cop Killer" and, well, a cop. But the truth is, the line between the two is a lot blurrier than you might expect.
See Also
The actress on what's in store for the milestone 20th season and for Olivia Benson.
Let's see how well you know everyone's favorite rapper/TV detective. Take this quiz to test your knowledge with the age-old question: Who said it, Ice-T or Fin Tutuola?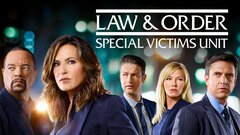 Powered by