Your Definitive British Mystery Streaming List on Amazon Prime Video
No one makes whodunits like the Brits. Their exports are so good and so in-demand (think: Sherlock, Agatha Christie's Marple and Inspector Morse) that the British Mystery is now its own genre, akin to the U.S. Western.
And while these works once aired mostly on PBS, Amazon Prime Video is now teeming with the best of Blighty's crime stories, like the eight below. Just don't expect tidy poisonings every time. These have blood and guts with their tea and crumpets.
See Also
The new series debuts Friday, June 1 on Cinemax.
Case Histories
Ex-soldier, ex-cop and now PI Jackson Brodie (Jason Isaacs) catches lost cats and cheaters on the 2011–13 series. But he's also an ace at solving murders and finding missing persons. Seasons 1–2 available
Crooked House
Agatha Christie's novel about a dead patriarch gets eerier in this 2017 film, due to creepy turns from Gillian Anderson, Glenn Close and Preston Nyman . Anyone who says they knew the twist is lying.
Endeavour
This prequel to Inspector Morse, which premiered in 2012 and is still making new episodes, follows the odd cop (Shaun Evans), whose first name is Endeavour, when he was a detective constable paired with mentor Fred Thursday (Roger Allam). Seasons 1–4 available
Grantchester
Sidney Chambers (James Norton) loves jazz, booze, cigarettes and besting his friend, detective Geordie Keating (Robson Green), at backgammon. He's also the vicar of Grantchester and a big help on Geordie's hardest cases. The upcoming fourth season will be Norton's last. Seasons 1–3 available
Agatha Christie's Ordeal by Innocence
Christie fans, don't skip this excellent 2018 miniseries, a loose retelling of her book about a scientist (Luke Treadaway) who claims that he was the alibi for a now-dead man (Anthony Boyle) convicted of killing his mom.
Prime Suspect: Tennison
Helen Mirren's Prime Suspect series gets a prequel. The 2017 drama flashes back to when Tennison (Stefanie Martini) was a rookie dealing with a nearly all-male police force. Season 1 available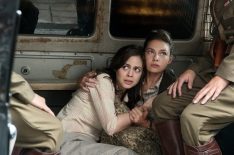 See Also
The series is based in an alternate timeline in which the axis powers won WWII.
The Suspicions of Mr. Whicher
In four movies that aired on U.K. TV from 2011 to 2014, Paddy Considine plays Jack Whicher, one of the original members of Scotland Yard's detective branch in 1842. The talented yet troubled man inspired Charles Dickens's crime tales.
See Also
CBS All Access and Acorn are just two add-ons in a list of many.
The Tunnel
A dead body found on the border of France and England begins the partnership of a Brit cop (Stephen Dillane) and a French inspector (Clémence Poésy) in this 2014–18 drama. Seasons 1–2 available