LeAnn Rimes Talks About Her Music-Filled Hallmark Holiday Film, 'It's Christmas, Eve'
Multiplatinum singer LeAnn Rimes makes her Hallmark Channel debut when she stars in It's Christmas, Eve, airing Saturday as part of the network's annual Countdown to Christmas programming extravaganza.
Rimes stars in the festive tale as Eve, an interim school superintendent whose necessary cost-cutting measures threaten the music department of her childhood school — until she tries to find a way to save it.
When TV Insider caught up with Rimes, she spilled the adorable reason she decided to make a holiday film, shared deets of the three new songs that grace It's Christmas, Eve, which are featured on the film's soundtrack, now available. Rimes also revealed a few of her holiday favorites.
Your fans know you as a singer; what prompted you to make a holiday film?
LeAnn Rimes: The first movie that I ever shot was a [1997] holiday film with Bernadette Peters called Holiday in Your Heart. It plays every year, over and over again. I'm finally like, 'Okay, I need to have something out there that people can watch around the holidays where I'm not 14 years old.' [laughs]
So, that was my main reasoning but, I also thought that Hallmark is such a great channel — they really are the kings of the holiday films. So the idea of me shooting a Hallmark holiday film with a musical angle seemed like the perfect fit!
Tell us a little about It's Christmas, Eve. What topics does the story bring up?
I have two stepsons [in real life], so the blended family aspect [of the film] was really important for me to talk about. It is something that I don't think gets put into enough entertainment and has light shed on it, in a positive way.
We also talk about music and arts in schools and how important it is to keep those there. Academically, kids do so much better when music and art are in the schools.
When you wrote the songs for It's Christmas Eve, what emotions were you trying to capture?
I'm always trying to capture someone's heart with music and get to those places where they don't normally go. I think this movie does that in so many ways.
When my collaborator, Darrell Brown, and I were writing these songs in February, we were on a time crunch because I'd been on tour and we were supposed to start filming, and so, we had a really small time window.
We sat down to write "It's Christmas Eve" first, and it just kinda poured out. It came out so simply; it's such a blessing when that happens. You don't have to wrestle with anything.
"You And Me And Christmas" is one of the songs that gets in your head, and it's super jolly and fun. It's one of those ear candy songs. I'm going to apologize now, because you're gonna be singing this song until next July!
The other song we wrote was "The Gift of Your Love," which fits perfectly in the film. It's not necessarily about the holidays, but it's such a beautiful love song that I'll be singing it even when it's not Christmas.
How do you feel about sharing these songs with your fans via Hallmark?
It's great. I mean, there's a zillion different ways to get music out in people's hands and their ears, and this is just a great way to be able to combine both film and music into one project. And, to be able to share new holiday music through Hallmark, is great.
You mentioned that you were writing songs and shooting It's Christmas, Eve last February; how did you get into the Christmas spirit at that time?
I don't think I've really been out the Christmas spirit for the last six years because I've been creating and writing music for Christmas albums, and every holiday season, I go on an annual Christmas tour.
So we usually start writing in February and then start recording early summer, and by the time we're done mixing it, I'm almost ready to start promoting it. So, it's been Christmas all year long for me for, like, six years now.
Why do you love touring around the holidays?
I think it's a wonderful way to connect with other people, People seem really open around this time of year, a lot more open than they are normally.
And it's just a nice way to be able to celebrate such a special time of year and really, kind of take people out of their normal everyday life and transport them into somewhere for a little, while that hopefully uplifts them and connects them to their hearts more.
What's your favorite holiday standard to sing?
I love singing "White Christmas," I think that's always such a beautiful classic. One of my favorite songs, that always makes me feel so happy and it's instantly Christmas whenever I hear it is "Holly Jolly Christmas." Another one that I love is "Happy Xmas (War is Over)," the John Lennon song.
Do you have any holiday movies that you watch over and over again?
Yeah, actually my sweet husband put in his vows that he would vow to watch Practical Magic with me every Halloween and Love Actually, every Christmas. We usually watch both of those through the holidays, and I also love watching National Lampoon's Christmas Vacation. That's just classic. I love that movie.
Do you have a memorable Christmas gift that you either gave or received that you'll never forget?
My engagement ring was probably one that I'll never forget. My husband proposed on Christmas Eve so, there you go, it's Christmas Eve.
Do you have any funny stories from the set of It's Christmas, Eve?
It's funny and amazing now, but in the moment, I wanted to cry. We were filming in a church/community center, and the space had accidentally been double-booked, so we only had 15 minutes to shoot this scene with eight people sitting around a table and a butt-load of dialogue.
We only had two attempts at the scene, and the first time, I screwed up everything. I had no idea what I was saying. And then, just before the second take, I just looked up, and I said, 'Oh my God, help!' And they called, 'Action!' and everything was perfect, and everything came out right.
Something much bigger than me saved my butt at that moment. Those are the moments you're like, 'Oh, thank God,' literally!
It's Christmas Eve, Saturday, Nov. 10, 9/8c, Hallmark Channel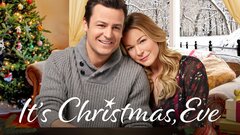 Powered by