'Chicago Fire' Alum Monica Raymund on Joining the 'SVU' Family & Her Darker Role in Starz's 'P-Town'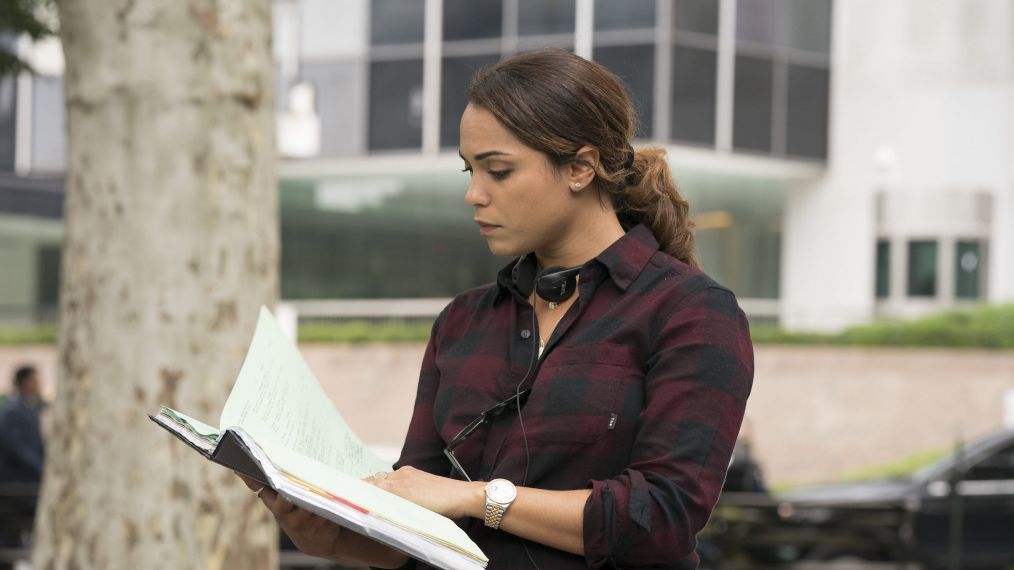 What was Monica Raymund's next step after leaving the role of EMT/Firefighter/EMT Gabby Dawson on Chicago Fire? She stayed in the Dick Wolf TV family and directed an episode of Law & Order: SVU.
Below, Raymund talks to TV Insider about the episode she directed, "Hell's Kitchen,' airing Thursday, November 8. She also explains her choice to exit the NBC show after six seasons, and details her upcoming role as a Fed fighting the opioid epidemic on Starz's P-Town.
See Also
Plus, the actress reveals her favorite guest star and what almost got her fired from the show.
You appeared in a Law & Order: SVU episode back in 2008 as Trini Martinez. Who was she?
Monica Raymund: A victim who was found tied up by her attacker.
This is a very different return visit.
Right. It's my TV directorial debut. The episode, called "Hell's Kitchen," has some awesome guest stars like Luke Kirby, who plays Lenny Bruce in The Marvelous Mrs. Maisel. I think he's one of the most brilliant actors in my age group.
What the hell in this kitchen? Is it a #TimesUp situation, where a boss, a chef, sexually harasses or abuses a woman who works for him?
Correct. This is a work situation where a boss takes advantage of somebody who works under them. And the SVU team tries to find justice in the case.
That's a very ripped-from-the-headlines story.
Unfortunately, there are myriad stories of chefs attacking women who work in that industry. It's a very topical issue.
How did this gig come about?
I was accepted into the Female Forward program at NBC. I was one of several women who was assigned to a show where you shadow the director for a couple of episodes and then are guaranteed to direct an episode.
So, it was lucky coincidence that you got to direct a show produced by Chicago Fire creator Dick Wolf?
I don't know if it was a coincidence, but it made a lot of sense. I understand the format very well, because I'd been doing it for six years.
See Also
Plus, find out more about all of the crossover action going on Wednesday nights.
How was the experience working on SVU?
The content is so serious and dark, and they have to do it every single episode, no wonder the cast is so much fun to deal with. It is incredibly important to enjoy your job. Take it seriously as a professional, but don't take it so seriously that you don't enjoy the process. The SVU cast and crew, they figured out how to do that graciously. Getting the job done and also having a good time. I was very humbled to have been invited into that fold.
How would you describe directing Mariska Hargitay?
Amazing. Man, I have a lot of respect for Mariska, and I made sure I expressed this. I thank her deeply, because she is one of the women who is creating and forging a space to women like myself. We are taking more creative control, having more power in telling stories, given the opportunity to play on the field, and Mariska is one of the women who have paved the way for that. As the pioneer in our industry, I owe her my deepest gratitude for that because she opened the door that I get to walk through and I hope that I can continue opening doors for the women who are going to potentially be in that position too.
I've been told that Dick Wolf prefers that his actors not direct their own show. Is that true?
I think that is correct. He prefers that actors concentrate on their jobs — Mariska is an exception, but only after many years. So yes, not being on Chicago Fire is a lot more helpful getting a job as a director in the Dick Wolf community than being on the show. But the fact that Peter Jankowski and Dick Wolf are allowing me to have the opportunity to direct is one of the most feminist moves that you can make. So, I'm really grateful to them.
Derek Haas was your EP on Fire and now he's also at Dick Wolf's new CBS show FBI. Maybe there's a chance for you to direct on that?
I would love to do FBI! They have my number, they know where I live.
What were the best and the most challenging things about your maiden voyage in the director's chair on a series?

The most challenging thing about it was adapting to unforeseen circumstances. The most wonderful thing about it was collaborating with other artists to tell a story greater than ourselves.
Did you have anything lined up when you left Chicago Fire? Wasn't it a bit scary to leave a popular show with the possibility of many more years?
I had nothing lined up and it was scary. I took a big leap of faith. For some reason, I had faith in something greater than myself to figure out where I was going to end up, and lo and behold, very grateful that it happened.
See Also
The actor, who played Voight's nemesis Denny Woods in Season 5, is back — this time, behind the camera.
Fire producers often talked about the Gabby Dawson/Matt Casey (Jesse Spencer) relationship as the heart of the show. Was it tough breaking up that couple?
Yeah. The last thing I ever want to do is disappoint fans, because the fans are truly the heart of the show. There was a part of me that was so bummed out that I wasn't going to continue that story line. But there was a part of me that was like, 'Hey, look at this wonderful opportunity for my friend Jesse [Spencer] and for the writers and producers to be invited to create something new, and fresh, and that's a totally new direction for Casey.' It seems the fans are sticking in there. The ratings are pretty good. It was bittersweet, because I love my producers, my cast and my crew.
Fans seemed pleased, me included, that you came back for this season's first episode for an emotional goodbye to the couple. Did you need convincing to return?
They were like 'Will you please do just one more to close up the storyline', and I was like 'Yes, of course I will, I love you guys. I love you and I love the fans and I love the story' and the opportunity to have been on NBC for six years.' It was my pleasure to close it out.
You're starring in what sounds like a very dark drama for Starz, P-Town. Do tell all.
I play a Marine Fisheries officer named Jackie, an alcoholic who finds herself part of an investigation to fight against the opioid epidemic. It's also about her struggle with sobriety, as she gets immersed in opioid gang life, after a dead body washes onto the shore near Provincetown on Cape Cod.
Is she a Fed who's armed?

Yes. She's a lesbian who uses her badge and gun to impress and seduce women and uses sex, drugs and alcohol to cope with her past trauma. It's really important to see a woman who is a lesbian person of color, in this case Latina, represented on mainstream television.
When do you start filming?
This spring, partly on Cape Cod.
Check out an exclusive sneak peek at the episode below:
Law & Order: SVU, Thursdays, 10/9c, NBC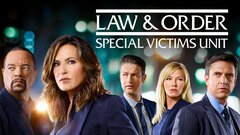 Powered by