'Chicago Fire,' 'Med' & 'P.D' Showrunners Tease New Characters, Relationships & Struggles
Dick Wolf clearly has great expectations for Wednesdays. With all three of his Chicago dramas together in one block, the superproducer will find it easier than ever to move his large cast of characters in and out of each title.
To wit: Week 2's three-way crossover. In what looks suspiciously like arson, a huge blaze at a 25-story apartment complex traps the father of the Halstead brothers — P.D.'s Jay (Jesse Lee Soffer) and Med's Will (Nick Gehlfuss) — and puts a number of firefighters in peril.
"You're going to see Severide [Taylor Kinney] go outside the tower from the 22nd floor. We shot it for real. It was incredible," says Fire executive producer Derek Haas. Here's what else is planned for the lifesavers and crime-solvers of Chicago Fire, P.D. and Med.
Chicago Fire
Season 7 Premiere, Thursday, September 26, 9/8c, NBC
Several months have passed since paramedic Gabby Dawson took a gig as a volunteer medic in Puerto Rico (Monica Raymund exited Fire in May), and her husband, Matt Casey (Jesse Spencer), "isn't coping very well with the long-distance relationship," says Haas. "His best friend, [Kelly] Severide, confronts him about being off his game, not being honest about the way he feels and not doing enough to change the situation." The marriage's shaky state "will be the spine" of the seventh season's first half, reports Haas. By contrast, the flame is still sizzling for Severide and Miranda Rae Mayo's firefighter Stella Kidd, and — new romance alert! — Joe Minoso's Joe Cruz will also meet someone.
Casey isn't the only one at Firehouse 51 missing Dawson. Sylvie Brett (Kara Killmer) "has been rolling through partners" on the ambulance since her friend's departure, Haas says. In the season opener, Chief Boden (Eamonn Walker) orders her to accept the next candidate on the list, whoever it may be. Enter smart, confident Emily Foster (Annie Ilonzeh, Person of Interest). Brett has some reservations about the newcomer, though — and Foster doesn't make an immediate good impression on the chief either.
See Also
'Chicago Med,' 'Chicago Fire,' and 'Chicago P.D.' return for a full night of life-or-death drama.
Personality conflict strikes again for Boden with new assistant deputy commissioner Jerry Gorsch (Trial & Error's Steven Boyer), an ex-firefighter who's young but would rather work a desk than a ladder. The two men have a history, notes Haas, adding, "He's a thorn in Boden's side. It will be fun."
Chicago P.D.
Season 6 Premiere, Thursday, September 26, 10/9c, NBC
The Intelligence Unit is still feeling the loss of Det. Al Olinsky (Elias Koteas) in a jailhouse murder. Wracked with guilt and grief, Sgt. Hank Voight (Jason Beghe) is under investigation for firing a fatal bullet at the drug lord who ordered Olinsky's hit. Was it a good shoot, or did revenge motivate the veteran cop? While Voight is benched, Antonio Dawson (Jon Seda) takes charge, which riles Ruzek (Patrick John Flueger).
"The two are at odds," says executive producer Rick Eid, "because Antonio got to the scene seconds after Voight opened fire and couldn't truthfully say whether the victim went for his gun. Ruzek's position is 'Who cares? He's the bad guy who killed Olinsky.' There's a lot of tension." That's not all that's brewing in the tight-knit group for Season 6. Someone's love life will heat up. We're thinking it's newest squad member Hailey Upton's (Tracy Spiridakos) turn to risk an in-house affair.
Finally, Anne Heche joins in a recurring role as Kate Brennan, the deputy superintendent of police. "Her focus is getting her boss elected mayor so she could then move up to his job," Eid explains. To further her ends, she'll ask for the wily Voight's help. "Sometimes they'll be in harmony. Sometimes they'll be in conflict," Eid adds. At least you can expect fewer complications between Brennan and ambitious Kim Burgess (Marina Squerciati), who seeks out the higher-up hoping to further her own career.
Chicago Med
Season 4 Premiere, Thursday, September 26, 8/7c, NBC
Season 3 ended with five cliffhangers — and five will be resolved in the return episode. A couple of months have elapsed at Gaffney Chicago Medical Center, and psychiatry resident Sarah Reese (Rachel DiPillo) chooses to leave after she discovers that her mentor Daniel Charles (Oliver Platt) seemingly didn't try to revive her dying father. (To be fair, the deceased did have severe antisocial tendencies and might have been a serial killer.) Charles's inaction will be addressed: "There are ramifications," says executive producer Andrew Schneider. "And repercussions," adds his wife and fellow showrunner Diane Frolov.
We'll learn whether Dr. Natalie Manning (Torrey DeVito) accepted Will's marriage proposal. Teases Frolov: "I'm happy and unhappy at the same time." And we'll see that Dr. Ethan Choi (Brian Tee) did take drug-abusing sister Emily (Arden Cho) home to live with him, over the relationship-threatening objections of his girlfriend, nurse April Sexton (Yaya DaCosta).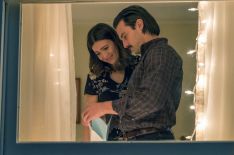 See Also
And Wednesday night has become 'Chicago' central.
Meanwhile, Connor Rhodes (Colin Donnell) declines the Mayo Clinic offer in favor of a new position "that utilizes his skills as both a trauma and [cardiothoracic] surgeon," says Schneider. According to Frolov, the opportunity involves "a technological advancement."
Fans already met fearsome new COO Gwen Garrett (Heather Headley, She's Gotta Have It), who's been hired over the head of hospital administrator Sharon Goodwin (S. Epatha Merkerson). "Garrett has a background in business, not healthcare," Schneider explains. With a mandate to slash and burn if necessary to rein in expenses, she could be gunning for the passionate Goodwin — and she has allies. This can't end well.