Farewell Gabby! How 'Chicago Fire' Handled Monica Raymund's Exit
[Warning: The below contains MAJOR spoilers for Season 7 Premiere of Chicago Fire.]
The premiere episode of Chicago Fire Season 7 was an episode of reflection.
It opens with Captain Matt Casey (Jesse Spencer) looking somberly at his paramedic-wife's — Gabby Dawson (Monica Raymund) — work jacket, after she left the Windy City for Puerto Rico to help in the hurricane relief effort.
Raymund confirmed she wouldn't be returning to the series in a post on social media. "It has been an honor to play Dawson on Chicago Fire and one of the most meaningful experiences of my life," she wrote. "I am so thankful for the journey and especially to all of you for watching, but I have made the decision that it's time for me to move on to the next chapter in life."
Meanwhile, Sylvie Brett (Kara Killmer) is regretting her heated, last conversation with Dawson before she left, and Chief Boden (Eamonn Walker) is contemplating what he should do after learning that Chief Grissom (Gary Cole), now the Fire Commissioner, faked his fire house's numbers to make himself look like a more effective leader.
Throughout the premiere, Casey is clearly torn up about having a long distance marriage. Lt. Severide (Taylor Kinney) proves his best friend status and asks how he's doing, to which Casey reveals he and his wife have barely spoken… and Gabby's been gone for months. At first, the job started out as a two-week assignment, then she extended, and extended again. It's obvious Casey doesn't think she wants to come back at all.
In a "step it up" effort, Casey FaceTimes Gabby and she answers. She reveals she's happy and feels fulfilled but there's so much work more that needs to be done. At this point, it's not hard to predict how the producers will write her off the show.
And yes, you guessed correctly — Gabby moves to PR permanently to lead her own aid unit comprised of doctors, lawyers, and engineers.
Casey is surprised (to say the least) when he walks into their apartment to find her stuff packed. She only returned to Chicago for a day to repack and didn't tell Casey she was coming. Gabby says, "People are giving up everything just to help."
She proposes they go back together but Casey knows his life is in Chicago. "You were meant to do this," he tells her. "I'm just lucky I got to walk alongside you as long as I did." Yep, this is a pretty clear breakup moment.
"I've never known anyone as good as you… and I never will," Gabby confesses before their final hug.
Helmets off to you Gabby, we'll miss you.
Other notable premiere moments:
– The show addressed another character absence: Connie. DuShon Monique Brown died unexpectedly in March 2018 from complications due to sepsis. Boden announces Connie's been taking night classes and has a new job as a counselor. In a poetic moment, Christopher Herrmann (David Eigenberg) says, "I didn't get a chance to say goodbye."
– Sylvie has a new partner. Welcome paramedic Emily Foster, played by Annie Ilonzeh. She has a mysterious medical past which will likely be fleshed out later this season.
– Grissom has assigned one of his loyal followers to work in Firehouse 51 to watch over Boden and the rest of the team. The chief tries to take his findings to the mayor's office, but in a twist of justice, they're going to look the other way and call the manipulation of numbers a "clerical error."
– Severide and Kidd (Miranda Rae Mayo) are very much together and totally in love.
Chicago Fire, Wednesdays, 9/8c, NBC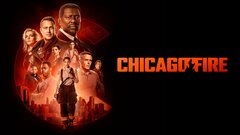 Powered by