'Last Man Standing': Tim Allen & Nancy Travis Break Down Why Season 7 Is Such a Hit
Tim Allen and Nancy Travis are enjoying a second honeymoon of sorts. The actors star as Mike and Vanessa Baxter on Last Man Standing, the family comedy canceled by ABC in 2017 and successfully revived on Fox in September (the premiere drew 8 million viewers, and all season the show has been the top Friday series for viewers age 18–49).
Together the couple are raising their family — three grown daughters and one grandson — while dealing with work, marriage and differing perspectives.
Last Man Standing's cast and crew are in buoyant moods on the Los Angeles set in mid-October, with production of lucky Season 7 in full swing. Almost all of the original team from both in front of and behind the camera is back, and the show films on the same soundstage as before — it feels like a family gathering even when you step beyond the stage lights illuminating the Baxter living room.
Allen and Travis are shooting a scene for the November 16 episode in which Mike and Vanessa have a serious talk with middle daughter Mandy (Molly McCook), a fashion designer who's thinking of ditching stitching for real estate after a setback. Mandy and her goofy, good-natured husband, Kyle (Cristoph Sanders), are still living at home, so their decisions have a major impact on Mom and Dad.
The rest of the children may be out of the house, but they are very much in the picture. Air Force Academy cadet Eve (Kaitlyn Dever) visits often. Eldest Kristin (Amanda Fuller), who works with her dad at the sporting goods store Outdoor Man, and her liberal husband, Ryan (Jordan Masterson), watch their young son Boyd's (Jet Jurgensmeyer) relationship with Grandpa Mike blossom. Later this season, the three guys go on what Allen calls a "wonderful" road trip.
But as for that parental chat with Mandy, "The episode is about how when one door shuts, another one opens," Allen says. How apropos. We sat down for a heart-to-heart with the warm, candid pair about their big return.
Why do you think the show is such a hit?
Tim Allen: In a peculiar way, the cancellation helped. We got this victim/underdog thing, like, "They shut the door on the quiet majority!" Baxter has a strong point of view — you can like or dislike it.
Nancy Travis: There isn't another character on TV right now like Mike Baxter. That people came back after the yearlong hiatus is a testament to our fans. Plus, the show's been in syndication, so it's got a new audience too.
Is Mike's conservatism misunderstood by some of the viewing public or critics?
Allen: Mike gets to say horrible things, but it's ribbing. It's not mean-spirited.
Travis: The show doesn't have an agenda. It's not trying to convert anybody or proselytize. The first episode this year was political. There were separations within our family, but the theme was, "We may have differences of opinion, but we're still together."
What are some of the big stories coming up?
Travis: In a marriage you can be together for years and think you really know a person, but Mike and Vanessa are still discovering things about each other. Sometimes it's against the backdrop of whatever conflicts are happening with their kids.
Allen: We don't want to deal with being empty nesters, writing-wise and personally. That's where Boyd comes in. Mike gets to [help] raise a boy against the backdrop of a liberal father. Boyd spends a lot of time at their house and becomes a big part of Mike's life.
Do you incorporate your family life into the show?
Travis: Sometimes you look at things and say, "How would I resolve this issue with my child?" One thing we're constantly trying to dig for is to be true, honest and real, and not just make surface banter and jokes.
Allen: I get to observe Nancy's life. She's dedicated to her family. I feel like I'm her brother. She tells me things, and I appreciate that she trusts me. I have all girls. Nancy has all boys. I can't believe how much I love my girls. I just stare at them. Sometimes they go, "What are you looking at?"
Travis: The wonder of it.
Allen: The wonder of it.
With her girls grown, is it enough for Vanessa to be a grandma right now?
Travis: No. Vanessa is/was a geologist and had a high-paying job at a big company. But was that her dream? Sometimes it takes a lifetime to figure out your passion. She loves teaching. We'll see where it evolves.
How is Mike adjusting to the changes at his job now that boss Ed (Hector Elizondo) has retired?
Allen: It's tougher than he thought it would be. He ends up running the whole store. It's too much work at his age. He should be thinking about retiring.
We met Vanessa's mom, Bonnie (Susan Sullivan), on the November 9 episode. How's their relationship?
Travis: Vanessa and her mom, who's smart, elegant and particular, don't quite jibe. Vanessa confronts her and learns that lifetime assumptions she made about her aren't true. It changes things. But her mom gets along great with Mike!
Allen: Mike has always liked Vanessa's mom. She's funny. We don't have any drama.
You two have barely aged since this show's pilot.
Travis: We breathe rarefied air here. I mean, it's hair, makeup, clothing — we're completely put together. And I say, "Get the special glow lamps!"
Allen: Nancy knows how to light herself. I can't look at myself in the mirror. I'll see Home Improvement, I'll see my movies, and I go, "Damn. I am old now."
This is an abbreviated version of TV Guide Magazine's cover story. For more from Tim Allen, Nancy Travis and the action still to come on Last Man Standing, pick up the latest issue, on newsstands Thursday, November 8.
Last Man Standing, Fridays, 8/7c, Fox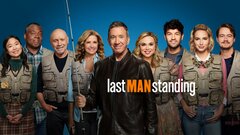 Powered by