Tim Allen Reacts to 'Last Man Standing's Successful Return & Hints at What's Next
What a comeback! Last Man Standing attracted an eye-popping 8 million viewers when Season 7 debuted on Fox September 28.
The sitcom — starring comedian Tim Allen as Mike Baxter, a curmudgeonly conservative, loyal husband and father of three grown girls — had been off the air for a year and a half after ABC canceled it in 2017. The high ratings made the return even sweeter for the joyfully reunited cast.
See Also
Plus, the on-screen couple tease new storylines and returning favorites.
"I'm over the moon that people cared enough to watch it," Allen told us enthusiastically after the numbers came in. "We got a second chance, and we're eager to make everybody laugh. We really do this for the fans." (When the first episode aired, Allen was at a 90th birthday party for his mother, prompting him to quip: "Sometimes I love being on the set because the family dynamics wrap up in about 23 minutes.")
The series has always found humor in the clash between conservatives and liberals, Allen says, with Mike a "very educated Archie Bunker" and two of the Baxter daughters "left-leaning." But in the end, he notes, "The only thing that really matters [for the Baxters] is family and neighbors. The bigger ideas are there, but they don't run our lives."
Upcoming episodes home in on the, uh, home front. Mike deals with the death of his dad, Bud (Robert Forster). He and smart, creative wife Vanessa (Nancy Travis) face an empty nest — provided daughter Mandy (Molly McCook) and son-in-law Kyle (Christoph Sanders) "figure out how to step out on their own," Allen says. And Mike clashes with liberal son-in-law Ryan (Jordan Masterson) about what the role of a grandpa should be.
This week, though, a sitcom staple: It's Halloween!
Last Man Standing, Fridays, 8/7c, Fox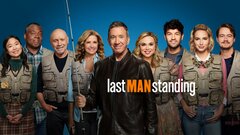 Powered by