'DC's Legends of Tomorrow': All Your Burning Questions Answered
From breaking the rules of time travel to vanquishing a winged demon that had taken over the body of übervillain Damien Darhk (Neal McDonough), the Legends earned their name this season in DC's Legends of Tomorrow.
Along the way, they mourned scientist Martin Stein (Victor Garber); bade farewell to the other half of Firestorm, Jax (Franz Drameh); briefly gained a speedster (Keiynan Lonsdale as Wally West); and welcomed a demonologist (Matt Ryan's John Constantine). Executive producer Phil Klemmer fills us in on what's next. Hint: It sounds scary good!
See Also
Plus, new series 'Charmed' and 'Legacies' get premiere dates.
Does Constantine joining the gang mean we're in for more supernatural elements?
Hell, yeah! The team's defeat of demon Mallus "left us hungry for more [horror]," says Klemmer. "Time travel and history are fun, but mashing them up with genres adds an extra layer." Don't worry — not all of the creatures that escaped Mallus's prison are evil.
What else was in that otherworldly lockup?
All types of "magical creatures, beasts and figures from fairy tales and fables," Klemmer previews, while warning of the looming schism between "hardliners and sympathizers" aboard the Waverider. "I do want to bring the Legends to a place where they're turning against one another," he says. "I hope people can tolerate that."
See Also
Plus, the cast takes part in a fun round of fishbowl questions.
#JusticeForBeebo?
The furry blue toy that became a Viking god thanks to a time anachronism met his demise after the Legends conjured him up to battle Mallus. "We weren't expecting him to catch on in the way he did," confesses Klemmer, promising they will find a way to bring Beebo back for another round. "Seriously, people were like, 'OK, whatever, you killed Victor Garber—but not the stuffed animal!'" the executive producer jokes.
Will we ever get Zari's (Tala Ashe) backstory?
Little is still known about Ashe's hacker, aside from the fact that she totally vibes with Wild West sheriff Jonah Hex (Johnathon Schaech). An episode coming up will explore her life, Klemmer says, in the "dystopian 2042, where metas were all rounded up by A.R.G.U.S." He adds: "I think people are really going to fall in love with her next season."
Speaking of love, what's ahead for Legends leader Sara (Caity Lotz) and Time Bureau director Ava (Jes Macallan)?
"I don't see any reason to torture them," says Klemmer. They won't be the only lovebirds on deck. Fans will get more of real-life married folks Brandon Routh (Ray) and Courtney Ford (Nora Darhk) as well. "We think the Ray and Nora thing is really intriguing," he admits.
Is Amaya (Maisie Richardson-Sellers) really gone?
Vixen has left the building, but Richardson-Sellers hasn't! "There's a big twist involved" is all Klemmer will say on the new role that "allows Maisie to play the polar opposite of Amaya from the '40s." Sadly, he notes, the same isn't true for Arthur Darvill's Rip, who is indeed dead. RIP, Rip.
DC's Legends of Tomorrow, Season 4 Premiere, Monday, October 22, 9/8c, The CW
For more exclusive content from your favorite shows like Big Bang Theory, Supernatural, and more, pick up TV Guide Magazine's Special Comic-Con Issue, on sale now. It's an all-access SUPERFAN guide with 88 pages of behind-the scenes photos, scoops, and interviews.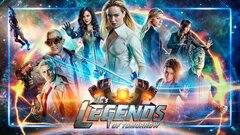 Powered by