First Look: 'Legends of Tomorrow' Meets 'Back to the Future' With Tom Wilson as Nate's Father (PHOTO)
Well looky what we have here!
In advance of Monday's roaringly entertaining fourth-season premiere, the good folks at DC's Legends of Tomorrow have hooked ya'll up with an exclusive peek at Back to the Future alum Tom Wilson's first appearance as Nate Heywood's father, Hank Heywood.
See Also
Plus, the cast takes part in a fun round of fishbowl questions.
While not as aggro as Biff Tannen, Wilson's elder Heywood is definitely not a warm and fuzzy sort. In fact, his long-overdue reunion with Nate (Nick Zano) comes at the end of a shotgun.
Still, given that Hank is the son of original Justice Society of America member Commander Steel and dad to the Legends' resident Citizen Steel (even if he doesn't know it yet!), we have hope that there's a bit of a hero inside of the initially standoffish fella. Especially since Wilson is recurring, which means he's gonna be around throughout the season.
It would be nice if one of the Legends had family at home they could count on!
DC's Legends of Tomorrow, Season 4 Premiere, Monday, October 22, 9/8c, The CW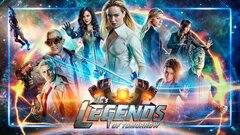 Powered by