Magic Returns in 'The Magicians' Season 4 Teaser Trailer (VIDEO)
Syfy just released the teaser trailer for the upcoming fourth season of The Magicians, and fans will find their favorite magicians living very different lives.
In the show's third season, the characters were working without magic until the Library decided to allow it again — but, of course, that came with a price.
See Also
[Spoiler] returns from the dead, plus more learned at NYCC.
Now, the Library controls magic and to ensure its safe keeping, the folks there wiped the memories of Quentin (Jason Ralph), Kady (Jade Tailor), Margo (Summer Bishil), Josh (Trevor Einhorn), and Eliot (Hale Appleman) and placed them back on Earth with new identities.
Predictably, that plan has its own set of problems — Eliot's now being possessed by a monster. "I'm not here to play," he says as his eyes start to glow.
In order to defeat this new evil, the group must get their memories back, find each other, and relearn magic. Meanwhile, Alice (Olivia Taylor-Dudley) is the only one who appears to know what's going on.
Watch the trailer below:
The Magicians, Season 4, January 23, 9/8c, Syfy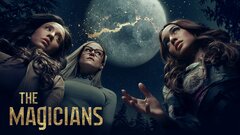 Powered by