'NYPD Blue': Fabien Frankel Cast as Andy Sipowicz's Son in ABC Sequel Series
UPDATE (1/17/2019):
The NYPD Blue sequel series has found its lead star in British actor Fabien Frankel.
Frankel landed the coveted role as Theo Sipowicz, son of the original show's lead character Andy Sipowicz (Dennis Franz). The news reported by Deadline also reveals that Theo, much like his father Andy is a "hard-drinking, hard-headed and quick-witted cop."
The sequel series will follow Theo as he tries to earn his detective shield and work at the 15th squad as he tries to solve the mystery of his father's murder. Fabien joins previously case Alana Tal and returning stars Kim Delaney and Bill Brochtrup.
UPDATE (1/9/2019):
Two familiar face from the original series are returning to the iconic series' upcoming sequel series. Kim Delaney is reprising her Emmy-winning role as Det. Diane Russell and Bill Brochtrup is returning as PPA John Irvin, according to Deadline.
They are set to be series regulars, with production starting next month.
ORIGINAL STORY (10/18/2018):
ABC is giving another former favorite the revival treatment as they revealed plans for an NYPD Blue sequel.
Instead of following the show's original characters, it will focus on the son of Dennis Franz's character Sgt. Andy Sipowicz. The character of Theo Sipowicz has yet to be cast, Deadline reports. The new iteration will be helmed by former NYPD Blue writers Matt Olmstead and Nick Wootton as well as director Jesse Bochco — the son of the late Stephen Bochco who was the series creator.
See Also
The entire series is now available.
Fans of the original may be shocked to hear that the show intends to kill off the beloved Sipowicz while his son is working towards earning his detective shield. The younger Sipowicz will work with the 15th squad as he investigates his father's murder. Franz's iconic character, known for being a tough and gruff cop who hit the booze pretty often, was the heart of the original series.
The sequel series will also feature a whole new group of cops alongside Theo, but it does leave the door open for former stars to stop by.
Franz, who won three Emmys for his leading role, was reportedly approached about the new series. "I did receive a call, and I'm flattered but not interested," he said in a statement. "NYPD Blue was a high point in my life and career, and I think of it so fondly. I wish them all well and much success."
See Also
A look back at the late show creator's favorite moments.
Theo's role originated during the show's first run — he's Sipowicz's son with Assistant District Attorney Sylvia Costas (Sharon Lawrence) who was killed in Season 6 when her son was still little. Child actor Austin Majors portrayed Theo for the remainder of the show after Season 6.
Prior to Grey's Anatomy's recent milestone of 15 seasons, NYPD Blue had held the record for the longest-running drama on ABC and won a respective 20 Emmys during its run.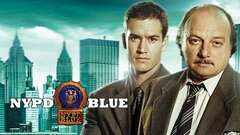 Powered by