'NYPD Blue': The Top 4 Episodes to Stream on Hulu
Naked butts! That's what most viewers remember about ABC's NYPD Blue, which debuted in 1993.
And true enough, it did seem to be a rite of passage for the cast to display their tushes onscreen. (The American Family Association damned the show as "soft-core porn.") But the cop drama broke as much ground as it dropped trou.
See Also
A look back at the late show creator's favorite moments.
Its de-glamorized style and outbursts of profanity preceded HBO's The Wire. Its portly, racist, cranky antihero, Det. Andy Sipowicz (Dennis Franz), predated Tony Soprano.
With all 12 seasons now on Hulu, binge these key episodes to see for yourself: The proof is in the 15th precinct.
"Pilot" (Season 1, Episode 1)
Several ABC affiliates refused to air the premiere, not only because of its violence, but also due to its salty dialogue. Blue's other major crime? Glimpses of T&A when Det. John Kelly (Caruso) and officer Janice Licalsi (Amy Brenneman,) had sex.
"A Death in the Family" and "Closing Time" (Season 3, Episodes 20 and 21)
Pass the cigars: Andy's wife, Sylvia (Sharon Lawrence), gives birth to a baby boy. And the tissues: His older son, Andy Jr. (Michael DeLuise), a rookie cop in New Jersey, is killed during a robbery.
See Also
'All Night,' 'Claws,' and more titles are coming to Hulu this May.
"Hearts and Souls" (Season 6, Episode 5)
Bye-bye, Bobby. For four seasons, Det. Bobby Simone (Jimmy Smits, who replaced the departing Caruso in Season 2) worked the Lower East Side with Andy.
Then, in Season 6, it was a microscopic enemy — not a perp — that did him in. He died of an infection following an unsuccessful organ transplant. You'll cry just as much for Sipowicz as for Bobby's widow, Diane (Kim Delaney).

"Oh Mama!" (Season 9, Episode 12)
The deadly bludgeoning of a teen leads Andy and his latest partner, Det. John Clark Jr. (Mark-Paul Gosselaar), to a boy whose crazy mother is monstrous in ways that can't be described in a family magazine.
NYPD Blue, entire series available, Hulu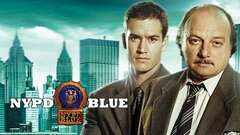 Powered by