'Homecoming' Cast & Director Tease the Series' Twisted & Dangerous Mind Games
"We're here to help them." That's the misguided refrain of earnest, empathetic caseworker Heidi Bergman in Amazon Prime Video's stylish new psychological thriller Homecoming.
Heidi, played by Oscar-winner Julia Roberts in her first leading television series role, counsels veterans at the residential Homecoming Transitional Support Center, which aids soldiers as they readjust to civilian life. "She helps them process their experience," says Roberts. "She really believes in it."
But something sinister is happening at the corporate facility — and Heidi's job has an atypically dark aspect. Roberts, however, won't offer any spoilers. She'll only say that she avoided interviewing real-life caseworkers in preparation for the role, teasing, "You'll see why in Episode 5 or 6."
See Also
The Amazon series was adapted from a scripted podcast.
The suspenseful, 10-episode Hitchcockian story — based on a podcast from Eli Horowitz and Micah Bloomberg, who serve as showrunners, and directed by Mr. Robot creator Sam Esmail — follows Heidi through two timelines set four years apart. In 2018, she's a caring professional at Homecoming. In 2022, she's waiting tables and living with her protective mom, Ellen (Sissy Spacek). It's clear her life has gone sideways, but we don't know how or why.
It turns out, neither does Heidi. Her eerie past begins to unfold when an investigator from the Department of Defense, Thomas Carrasco (Boardwalk Empire's Shea Whigham) shows up at the greasy diner where she works to ask her questions about Homecoming. A tense, stressed Heidi, so different from the calm, competent, caring woman we see in her caseworker days, is chilled that she can't remember details of her time there. So begins a search for the (awful) truth.
"It was tricky as a performer," Roberts says. "Sometimes I would have to sit down and assess what, at that point, Heidi knows, thinks she knows or knows is or isn't true. It becomes fascinating, the idea of memory. Is it better to not remember? Or to have to face certain things?"
One part of Heidi's journey to remembering centers on what really happened to one of her former clients. In 2018, Homecoming resident Walter Cruz (Stephan James, who played sprinter Jesse Owens in the 2016 feature film Race) is a trusting, hopeful veteran working toward a normal life — and navigating an increasingly fraught friendship with Shrier (Jeremy Allen White, Shameless), a soldier he was deployed with, who is convinced Homecoming is a bad place.
See Also
Alarming revelations and deceptions create a mood of escalating panic and creeping paranoia in this Amazon Prime Video series.
"Walter is driven to re-acclimate to civilian life and he's willing to do anything for it," says James. "He and Heidi build this trusting relationship and create a bond that changes Walter forever. Slowly he begins to open up, not knowing that everything isn't exactly OK behind the scenes. It may hurt him a little bit. And Shrier makes him question things he doesn't want to."
Taking what was originally an audio story to the screen required a visionary TV director, and Esmail fit the bill. His USA drama Mr. Robot, about hackers who take down the financial system but still can't escape the all-seeing eye of a powerful corporation, shares with Homecoming what Esmail calls "the unreliable reality around us, that tenuous relationship we have with the world."
See Also
The new series is a mind-bending psychological thriller.
In the series, facility director Colin Belfast (Bobby Cannavale, who worked with Esmail on Mr. Robot and Whigham on Boardwalk Empire) helps create the veterans' "unreliable reality" while leaning heavily on Heidi to deliver him information from her sessions. (He barks her name into a cellphone in split-screen scenes.) Says Roberts with a laugh, "I would wake up in the night hearing Bobby say, 'Heidi, Heidi, Heidi!'"
Viewers may not sleep either while they binge and wonder what exactly happened at Homecoming — and to Heidi. "The story is intimate and so much about the characters and the twists," Esmail says of the series, which will return for a second season. "It's a throwback to thrillers you don't often see."
Homecoming, Series Premiere, Friday, Nov. 2, Amazon Prime Video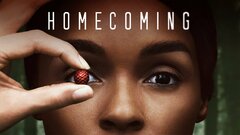 Powered by