'Homecoming' Trailer: Julia Roberts Questions Her Sanity in Amazon Drama (VIDEO)
Amazon Prime Video dropped its first full-length trailer for its new psychological thriller, Homecoming.
It stars Julia Roberts, as Heidi Bergman, a caseworker who's employed at the Homecoming Transitional Support Center, a Geist Group facility which helps "soldiers transition back to civilian life," according to a press release.
See Also
The Amazon series was adapted from a scripted podcast.
In the trailer, we meet Walter Cruz (Stephan James), a soldier "eager to begin the next phase of his life." Colin Belfast (Bobby Cannavale), oversees the facility and is "an ambitious company man whose manic demands point to questionable motives."
The series jumps back and forth in time to tell the mind-bending story. We also see Heidi in her new life, "living with her mother (Sissy Spacek) and working as a small-town waitress, when a Department of Defense auditor (Shea Whigham) comes to her with questions about why she left the Homecoming facility. Heidi begins to realize that there's a whole other story behind the story she's been telling herself," the release teases.
Heidi's life unravels when she begins to question her choices, how she ended up in this situation, and what terrible things happened at Homecoming.
Check out the trailer below:
Homecoming, Series Premiere, Friday, Nov. 2, Amazon Prime Video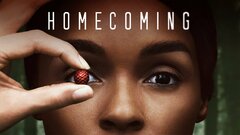 Powered by