Roush Review: Julia Roberts' 'Homecoming' Is a Brisk & Mesmerizing Thriller
Less is more in Homecoming's elegant maze of unease. The less Heidi Bergman (a taut, terrific Julia Roberts) remembers about her time four years earlier as a caseworker at a transitional center for veterans, the more unnerved she gets.
With a running time of roughly 30 minutes for each of its 10 episodes, this absorbing series makes a virtue of economy in storytelling, almost unheard of in a time of streaming bloat. Director Sam Esmail (Mr. Robot) shows his affinity for suspense masters Hitchcock and Brian De Palma, his camera gliding ominously through the impersonal corridors of the Homecoming cuckoo's nest where Heidi counsels vulnerable ex-soldiers.
See Also
The Amazon series was adapted from a scripted podcast.
The TV auteur plays with time and perspective too. Distorted sound effects, reminiscent of Lost, herald each shift in time as we follow Heidi in her present-day fog, the ratio of the TV screen constricting around her to suggest there's an elusive truth just out of reach. "Where's the other one, the real…me? The one I won't let myself see?" she wonders late in the run.
In full-screen flashbacks, we get to know the other, more open Heidi as she makes a special connection in her therapy sessions with sympathetic vet Walter Cruz (Stephan James), whose good and gentle humor masks the residue of wartime trauma. Heidi's "holistic" approach is at odds with the medical regimen dictated over the phone by her arrogant boss (Bobby Cannavale, at his most menacing), who represents one of those faceless corporations with a predictably sinister agenda.
The arrival of a dogged bureaucrat (Shea Whigham) from the Department of Defense, looking into a complaint filed four years ago by Walter's suspicious mom (a ferocious Marianne Jean-Baptiste), triggers present-day Heidi's confusion. Why does she have no memories of her time at the Homecoming facility? Why did she abandon her calling to help soldiers and move back with her mom (Sissy Spacek) for an unfulfilling waitress job? What does it mean that she and Walter left the program the same day? And what happened to him?
These answers eventually unspool in satisfying fashion, as alarming revelations and deceptions create a mood of escalating panic and creeping paranoia in each timeline. This brisk and mesmerizing thriller is the best sort of binge.
Homecoming, Series Premiere, Friday, November 2, Amazon Prime Video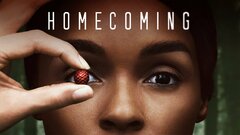 Powered by