'Doctor Who': The Doctor Is Reunited With Her TARDIS (RECAP)
After a charming introduction to the Doctor and her new best friends in last week's earthbound Doctor Who premiere, this week the gang experiences their first alien planet in a solidly entertaining episode, which again places character and pathos above time-warpy thrills and spills.
"The Ghost Monument" is essentially a sequel to "The Woman Who Fell To Earth" and wouldn't have felt out of place as a double-bill feature. It's easy to spot the connective tissue between both episodes in terms of themes and plot points. And both feel distinctly Chris Chibnall, which is to say, heavy on heart; lacking in flash. The dialogue continues to be clunky in places too. I know sci-fi often requires lots of exposition, but there must be ways to spice it up and not have it come across so dry.
On the plus side, Chibnall keeps things moving and doesn't waste too much time dwelling on a particular incident. Even if the content itself isn't always the most inventive, the story shifts at such a pace that you never lose interest. Chibbers also peppers this episode with a little more humor than the premiere (the Pythagoras hangover gag and the TARDIS's new Custard Cream Dispenser being the funniest). If he could add more of that levity in the heavy exposition scenes it would go a long way.
"The Ghost Monument" is perhaps the most gorgeous Doctor Who has ever looked. Mark Tonderai directs the episode with a cinematic flair which matches the plot's pace but also highlights the beauty of the mysterious planet (filmed in South Africa) with these incredible sweeping shots of the desert. And Segun Akinola continues to deliver with his entrancing, electronic score, which only adds to the episode's filmic feel.
The story picks up from last week's breathtaking cliffhanger, where the Doctor (Jodie Whittaker) and her companions are plucked from space by two passing spaceships and taken to an abandoned planet known as Desolation. The group soon finds themselves in the middle of an intergalactic competition called The Rally of the 12 Galaxies; try and imagine The Amazing Race set in the year 3030.
There are two competitors left in the contest. Angstrom (Susan Lynch), an ambitious pilot from the planet of Albar who is fighting on behalf of her family, and Epzo (Shaun Dooley), a heartless outcast who cares more about his expensive cigar than his fellow people. Angstrom and Epzo are tasked with one final mission by the game's holographic host, Ilin (Art Malik), a sort of alien Phil Keoghan. Whoever reaches the fabled Ghost Monument first will be crowned the winner and awarded 3.2 trillion krin. The loser will be left on the forsaken planet to perish.
The Ghost Monument turns out to be the TARDIS, which, of course, provides even more incentive for the Doctor to join Angstrom and Epzo on their race across the rugged and dangerous terrain of this lost planet which has fallen out of orbit. The Doctor promises to get the gang home, and so everyone sets forth on an adventure which involves flesh-eating water, Sniper-bots, and floating pieces of homicidal fabric.
Much like last week, the focus is less on the aliens and more about connecting the audience to these new characters. Ryan (Tosin Cole) and Graham (Bradley Walsh) explore their relationship in the wake of nana Grace's death. Both are dealing with the grief in their own way. Graham chooses to talk out his problems while Ryan keeps things bottled up. And though Ryan still refuses to call Graham "Granddad," you can already feel their bond deepening in the presence of the Doctor. If Ryan doesn't call him Granddad by the end of this series, then call me Tim Shaw.
Ryan also gets to debate the Doctor on the use of guns, act out his Call of Duty fantasies, and remind us of his battle with dyspraxia, in a way that feels natural to the plot and not just shoehorned in for the sake of it. Of the new companions, Ryan is certainly given the most to do, while Graham has the best lines and can be called upon for a heartfelt monologue when necessary.
Yaz (Mandip Gill), however, continues to feel shortchanged, which is a shame because when she is on screen, Gill delivers a sharp performance. Her conversations with Angstrom show she is family orientated, and she talks about missing her dad and sister at one point, but it's rather hollow material compared to that of Ryan and Graham, whose story feels more relevant to the show as a whole.
Whittaker, on the other hand, is killing it. Her Doctor is crafty and quick-thinking and proof that "brains beat bullets" every time. Her life-saving stunt with the self-lighting cigarette is the kind of imaginative heroics we expect of the Doctor. And while the majority of the episode requires Whittaker to be hyperactive and assertive in her quest to find her TARDIS and help her friends, towards the end of the episode she gets to flex her dramatic muscles.
There are two scenes in particular which allow Whittaker to portray a more introspective and unsure Doctor. Firstly, when the fabric-monster digs into her psyche and reveals her innermost fears of loss and abandonment (The Timeless Child). And when she thinks she's failed her team and left them stranded. Whittaker conveys the anger, confusion, and self-doubt in a way that has me excited to see what she can do with darker, deeper material in episodes to come.
After helping Angstrom and Epzo to a surprise joint victory, the Doctor finally finds her TARDIS, and it's a heartwarming reunion. The TARDIS has always been "bigger on the inside," but this may be the most spacious design yet. I wasn't sold when I first saw the production stills of the new interior but on screen, the neon lights and glowing crystalized columns look dazzling. The initial reactions of Ryan and Yaz could have been better written ("Wow" felt like an understatement), but at least Graham seemed suitably impressed/befuddled.
"The Ghost Monument" is a tighter plotted episode than the premiere and less clumsy with the dialogue, though it's still flawed in places. The cast also continues to click, even though Yaz often feels like a spare part, but that is something that will hopefully be fixed in the weeks to come. I felt slightly let down that the gang weren't a little angry with the Doctor for unwittingly dragging them into space and almost getting them killed, but it's clear Chibnall is going for companion camaraderie rather than in-fighting and there is nothing wrong with that. Another satisfying episode with the promise of more fun to come.
Additional Notes
-Despite Chibnall stating that there would be no series arc this year, the second reference to the Stenza Warriors (last week's villain) and the cryptic reference to the Doctor as "The Timeless Child" sure feel like recurring plot points to me. Turns out The Stenza have been forcing abducted scientists to create weapons of destruction.
-We got our first proper look at the new title sequence – and I love it! A kaleidoscopic burst of purple-y colors reminiscent of classic Who. The updated theme music is fantastic too.
-I mentioned the TARDIS's Custard Cream Dispenser earlier, but I just realized American readers may not know what a Custard Cream is. Firstly, I'm sorry that you've never experienced the gloriousness of a Custard Cream. It's a popular British biscuit (cookie) with a custard-flavored filling that has been around for decades. A wise choice for Thirteenth Doctor I must say.
-The Doctor subdued Epzo using Venusian Aikido, an ancient martial art used to immobilize enemies by using pressure points. It was primarily used on TV by Jon Pertwee's Third Doctor but was recently used by Peter Capaldi's Twelfth Doctor in the episodes "Robot of Sherwood" and "World Enough and Time."
Doctor Who, Sundays, 8/7c, BBC America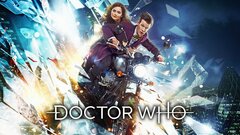 Powered by