'Doctor Who' EP & Jodie Whittaker on the Season 11 Change That'll Drive Fans Crazy (VIDEO)
At this year's San Diego Comic-Con 2018, BBC America dropped its first Doctor Who Season 11 trailer, featuring the long-running series' first female Doctor in the form of Broadchurch actress Jodie Whittaker. And sure enough, fans are raving about the changes.
New showrunner Chris Chibnall chatted with TV Insider about the differences between Whittaker's thirteenth doctor and her male predecessors. He also shared the one new thing about the upcoming season that will drive fans crazy.
See Also
The universe is calling and a female doc is on the other end.
"It's very new; it's very fresh," Chibnall teased about Jodie's take on the iconic role (most recently held by Peter Capaldi). "Jodie just came in and had it… she's that good."
As for exciting things to look our for in the upcoming episodes: "You're going to see a whole range of different stories, you're going to see historical time periods, you're going to see alien planets, you're going to see loads of new monsters, and you're also going to meet an amazing new Doctor," Chibnall added.
Watch the whole interview below:
Interview by: Emily Aslanian
Doctor Who, Season 11, Fall 2018, BBC America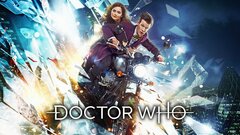 Powered by