'Doctor Who' Delivers a Powerful History Lesson on the Civil Rights Movement (RECAP)
Doctor Who forgoes the rubber-faced aliens and intergalactic space wars for an important and introspective episode on racism and the civil rights movement.
The historical episode has been part of Doctor Who ever since the show's inception back in the 1960s. William Hartnell mingled with the Aztecs and Ancient Romans. Christopher Eccleston teamed up with Charles Dickens to fight off an alien zombie invasion. And Matt Smith showed Vincent van Gogh that his paintings weren't a load of old rubbish… he also accidentally saved Adolf Hitler. But never has a historical episode felt so bold.
"Rosa," co-written by Chris Chibnall and former Children's Laureate Malorie Blackman, sees the Doctor (Jodie Whittaker) and her gang of Graham (Bradley Walsh), Ryan (Tosin Cole) and Yasmin (Mandip Gill) transported back to mid-fifties Alabama where they encounter the first lady of civil rights and a leather jacket-wearing time-Nazi intent on altering history.
Blackman is the perfect person to handle the heavy subject matter of this episode. An award-winning author, Blackman is best known for her young adult novel series Noughts & Crosses and is tried and tested when it comes to using science fiction to explore social issues involving racial discrimination and segregation, topics at the heart of this episode.
The Doctor quickly realizes that it's no accident the TARDIS landed in 1955 in the city of Montgomery, Alabama. There are traces of Artron energy (caused by time travel) in the area, and those traces lead to one Rosa Parks — played with impressive gusto by Sherlock actress Vinette Robinson, even if her accent does falter on occasion.
A former prisoner of Stormcage (the highest security prison in the universe) is on the loose and determined to make sure Rosa never stages her sit-down protest on a segregated bus — an act which kickstarted a civil rights revolution in America. Calling himself Krasko (Joshua Bowman), this racist time-hopper dresses like the Fonz but looks like Mac from It's Always Sunny. His villainy is at times comical, but he's merely there to act as a prop for the episode's message.
In their attempts to keep history on track, we begin to see a deeper side of the Doctor's new companions, particularly Yaz, who has been seriously underutilized up until this point. In one of the episode's stand-out scenes, Ryan and Yaz, hiding behind a dumpster after being chased from a "Whites Only" motel, discuss the situation and their own experience with discrimination back in the 21st century.
Ryan talks about being stopped by the police "way more than his white mates," and Yaz reveals the frequent racial abuse she receives while on duty as a police officer or coming home from the mosque. She recalls how she is called a "paki" and a "terrorist." While the episode is undoubtedly heavy-handed, and at times veers into "after-school special" territory, moments like this are meaningful and relevant, especially to a younger audience who will be watching and asking questions.
It's because of the episode's powerful message that you can forgive the rather paper-thin plot. Fascist Fonz tries to stop Rosa's protest by interfering with the bus schedule and diverting James Blake (Trevor White), the racist bus driver who calls the police on Mrs. Parks, away from the scene. Meanwhile, the Doctor and friends rush around undoing Krasko's evil deeds. Graham uses his bus driver experience to get access to Blake, Ryan serves coffee to Martin Luther King Jr., and Yaz keeps Rosa preoccupied until it's time to catch the night bus home.
After Ryan uses the vortex manipulator to zap Krasko way back into the past, where he and his views belong, he joins the others on the bus just before Rosa's act of defiance. And make no mistake, this is Rosa's moment, the episode doesn't take away her importance by having the Doctor save the day. In fact, the Doctor and her companions become part of the problem. Because of Krasko's interference, the bus isn't full, and so the gang must stay aboard to occupy the extra seats and make sure Rosa's protest happens.
It's one of the bravest and yet equally heart-wrenching scenes Doctor Who has ever put to screen. The pain on Graham's face when he realizes he has to be the white passenger for whom Rosa is expected to give up her seat is brilliantly played by Walsh, who has been uniformly excellent throughout the series so far. Robinson also delivers in portraying Rosa's courageousness in the face of such needless cruelty.
While the episode was a little on-the-nose and felt more like an installment of Quantum Leap (or Timeless, for a more up to date reference) than Doctor Who, I appreciated how it didn't shy away from its subject matter nor did it try and say everything is perfect in the modern day. There were ethnic slurs, threats AND acts of racial violence, and a reference to Emmett Till, an African-American child who was lynched in Mississippi in 1955 after being accused of offending a white woman.
You have to remember; this is a show broadcast at "tea-time" in the United Kingdom and watched by families. Having an episode of Doctor Who be so uncompromising in its approach to racism can only be a good thing. It's also a celebration of one of the most influential women in the civil rights movement and will serve as a great crash-course for young viewers who may have been unfamiliar with Rosa Parks.
Additional Notes
– While the episode is certainly bleak, it's not without its moments of humor. It's Ryan who gets the biggest laughs this week, first thinking that Rosa Parks was "the first black woman to drive a bus" and later suggesting the potentially genius plan of "fishing takedown."
– The Doctor is Banksy? I guess that explains how the shredding of the "Girl with Balloon" painting was achieved. Sonic screwdriver!
– Graham pointing out that the gang never stops for a lunch break is something that needed to be said, even if there were more crucial matters at hand.
– I didn't talk much about Whittaker's Doctor this week, but she was great as usual, though her Rosa Parks history lesson at the end felt a little stilted… but I think that is more a problem with the writing than Whittaker's performance.
Doctor Who, Sundays, 8/7c, BBC America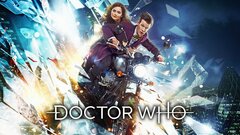 Powered by