'Doctor Who' Bosses on What's Next, the Rosa Parks Storyline & Season 11's New Look (VIDEO)
On October 7, viewers finally got their first lengthy look at Jodie Whittaker's stunning thirteenth Doctor during a worldwide simulcast of sci-fi fave Doctor Who. The episode drew 1.4 million viewers and more than doubled Peter Capaldi's final episode, which aired last year.
The next day, TV Insider had showrunner Chris Chibnall (who took over for Steven Moffat this year) and executive producer Matt Strevens stop by our NYC office to chat about their experience of watching the episode during their New York Comic Con panel in tandem with the actual airing.
"The best place to watch it in the world was Madison Square Garden," Strevens says. "I think we spent the whole evening watching the audience, and not the episode."
The duo also spoke about what's on deck for the October 14 episode, "The Ghost Monument," and the rest of this season's adventures. "Desolation is an important word for next week's Episode 2," teases Chibnall. Last we saw, the Doctor and her three new friends were stranded in space sans helmets, so, desolation seems pretty appropriate.
And of course, perhaps the biggest news to come out of this weekend for Whovians was the addition of a Rosa Parks storyline, which will take place in Episode 3 this season. Chibnall was confident that he wanted to tackle the important figure early on. "I knew coming in that I wanted to do Rosa Parks as our first historical [storyline]," he shares.
One thing is for sure, we can't wait to see what surprises are in store for next week and beyond!
Check out the interview below.
Doctor Who, Sundays, 8/7c, BBC America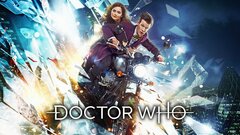 Powered by